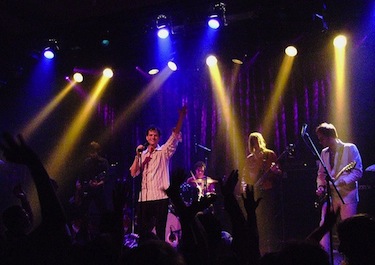 "Danger! High Voltage," should be written above the doors at the Troubadour this Saturday night.
Electric Six is in town.
It's been 10 years and seven albums since this sextet released its catchy, raunchy hit "Danger! High Voltage," which topped the charts in the U.S. and U.K.
Electric Six's vibe has always been strange, bizarre, hilarious and sexually charged — disco co-mingles with rock and plenty of weirdness. Frontman Dick Valentine has also always pushed the envelope, and as a result Electric Six has remained a quasi-cult band.
"We've got the market cornered on the type of people who are into Electric Six," Valentine said. "There aren't many bands trying to be Electric Six. So, people who are into our band don't have other options. There are no challenges."
Who else would include costumed "Gaybraham" Lincolns in their videos?
On their debut album, that's just what they did in "Gay Bar." The Gaybraham's stroke hammers, gyrate in ecstasy and simulate giving head to Greek statues in the White House.
Par for the course with E6, but surely the video has a hidden message?
"Message? I'm not sure," Valentine said. "It was the director's idea; the whole concept for the video. I think he's just operating on the rumor that Abe Lincoln was bisexual."
The inspiration for the song came from Valentine's mishearing the lyrics to Devo's "Girl You Want." He thought he heard "She's just a girl, a girl in a gay bar."
"So, I decided that I would write a song about a girl in a gay bar," he said.
Electric Six ever-embraces crude and crass humor (Think Bryan Ferry a la Roxy Music meets Dr. Frank-N-Furter from "Rocky Horror Picture Show")
"That's just a way to make us appear more exciting than we actually are," Valentine joked.
Beyond bizarre lyrics, the band's debut album also was mired in mystery.
Allegedly, a pre-famed Jack White sang the vocals to "Danger! High Voltage" alongside Valentine. At the time of song's release, however, White vehemently denied singing on the song. The backing vocals were credited to a "John S. O'Leary."
Then-guitarist Surge Joebot stirred things up even more when he stated in an interview with Antimusic that the singer was actually an auto mechanic who won some unknown contest.
"I try to put those (rumors) to rest every interview but it just keeps coming back," Valentine said, laughing. "No, it was him, but I mean, I've been on record about that since 2004. Yet, to this day it still comes up in interviews."
Bear in mind, before all the hoopla, White claimed that Meg White was his sister (though she was actually his wife).
All of it meant more attention for E6 and its debut album "Fire."
The White Stripes, however, proved to be the band that went mainstream. Their major label debut "Elephant," which included hits "Seven Nation Army" and "Hardest Button to Button," won a Grammy.
Both bands cut their teeth in the late 90s/early 2000s at Detroit venues, such as The Old Miami and The Gold Dollar, playing to the same audiences.
However, The White Stripes are more Rolling Stones, with that minimalist rock and roll, blues revival sound that is simply more accessible to mainstream listeners. While Electric Six is more Frank Zappa, who requires a specialized audience.
Still there is a place for E6, which basks in its unrivaled approach.
The band's follow-up album "Señor Smoke" brought with it the predictable controversy.
The video to a cover of Queen's "Radio Ga-Ga" included a mustachioed Valentine impersonating Freddy Mercury, who is resurrected to sing, drink a pint and play chess with Standard Poodles (who also serve as his backing band).
In the eyes of many Queen fans, Dick was dancing on Mercury's grave.
Nevertheless, many celebrities attend E6 shows.
"I don't want to divulge who they are because it might taint their celebrity," Valentine said.
This dirty outfit translates best live. On Saturday, they'll perform at the Troubadour, and their current tour will even provide fans with a live album.
"We recorded a live album," Valentine said, "and now we're about to do a live DVD. We're also working on our next studio album and touring. So just kind of doing it all. Five shows in and it's the best tour ever."