Politics isn't pretty. But politicians should be, according to a study by researchers at the University of Haifa in Israel. They found that the most attractive members of the legislature got the most TV time.
On March 5, when WeHo voters go to the polls to elect two city council members, we'll see if looks count here as well. We're guessing the answer is "yes" to some degree in a town where the plurality of the population is gay men for whom the term "six pack" conjures up defined abs rather than cans of Pabst Blue Ribbon. We also have to note that in WeHo, "product" isn't something coming off a factory line, like in Detroit. It's bottles of expensive skin ointments and hair gels that fill our medicine cabinets and gym bags.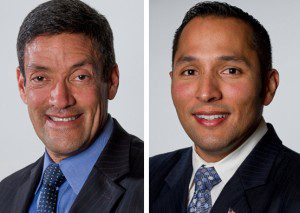 So perhaps Councilmember John Duran, 55, long viewed as the "looker" on the WeHo City Council, should shift his attention from challenger Steve Martin, the current focus of his blasts of emails and print flyers, and look at Deputy Sheriff Christopher Landavazo, who offers a similar Latin look, albeit with 15 fewer years.
Then there is Tristan Schukraft, 33, an internet entrepreneur who, at age 17, moved to Europe to model for several European fashion houses. At 19 he moved to Hong Kong, modeling throughout Southeast Asia and China for various international labels and local brands. He has appeared in numerous magazines including L'UOMO, FHM, W and GQ.
This campaign is all but over. But next council election, we'd love to see some flyers in our mailbox making the case for WeHo's prettiest face.
For now, at least Schukraft provided six photos from his modeling days, presented below: