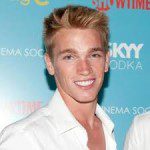 Former porn star Nick Gruber's tussle at Chateau Marmont Tusday night (Feb. 26) is yet more evidence that Calvin Klein, 69, made a wise decision when he broke up with the hotheaded 22-year old. The New York Post reports that Gruber lost it when he and a friend were told the kitchen was closed when they tried to order a burger at 1:30 a.m. "Gruber then got agitated, and security was called over," the Post said. "A scuffle ensued, and we're told a hotel security guard head-butted Gruber, and a fight ensued. Gruber then called the cops. He claimed the security guard jumped him, leaving his hand bruised."
Burgers at Chateau Marmont? Gruber clearly has come a long way from an early date with Klein in which, Perez Hilton reports, he took the fashion designer to his first-ever visit to McDonald's.
In the past 12 months, Gruber has been arrested for cocaine possession and outed for necking with a girl. But there is a glimmer of hope on the career front for Nickie. The Post reports that he is filming a reality show about his relationship with Klein.
"It's also me trying to figure out who I am as a process of coming from his lifestyle from New York to LA at the same time being the straight boy and still [liking] men and women," said Gruber, who says that his new boyfriend, John Luciano, who also is his manager and the nephew of mobster Lucky Luciano, lets him date women.
Reality TV as a way to straighten out one's life? If Nick's headed in that direction, we'd recommend he apply for a job with Lisa Vanderpump at Sur. After all, "Vanderpump Rules," the reality TV show about Sur's relationship-challenged staff, has been greenlighted for a new season, and Lisa could teach him some lessons.