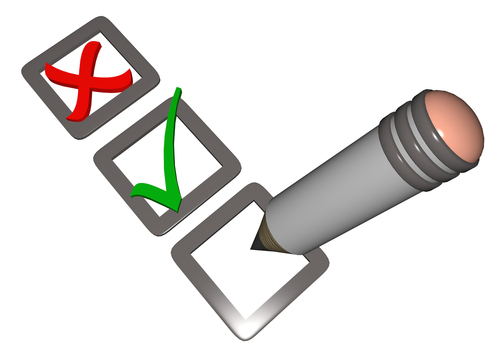 The 6,000 or so voters who, based on past history, are likely to turn out for the West Hollywood City Council election tomorrow have had two months to make sense of increasingly virulent accusations and a few key arguments proffered by some of the two incumbents and seven challengers in the race.
We'll have to wait until late tomorrow night to see who wins the two council seats in contention. The many and expensive mailings by incumbent John Duran are likely to have some impact, as are the small group rallies and meetings staged by challenger Sam Borelli, the street campaigning by Christopher Landavazo and Steve Martin's support from supporters of council term limits. (Incumbent Jeffrey Prang has been relatively invisible, save for a single debate appearance, one or two mailings, and a few emails).
But it's likely that voter receptivity to a few key arguments made by candidates and supporters will determine who wins. The arguments are these:
If It Ain't Broke, Don't Fix It
This is the basic position taken by Mayor Prang and Councilmember Duran, who have served 15 and 11 years, respectively, on the council. Prang and Duran point to West Hollywood's strong financial position, including a triple A rating from the Fitch service, during a recession that actually pushed three California cities to declare bankruptcy. The incumbents, both gay, also have stressed their support of West Hollywood's diversity and their experience in an increasingly complex government position.
WeHo Needs New/Experienced Leadership
The need for turnover on the council is a major argument advanced by "Yes on C," the committee formed by local activists to support Proposition C, which would limit future City Council terms to 12 years. Term limits advocates argue that John Heilman, who has served on the council since the city's incorporation in 1984, Abbe Land, a 21-year council veteran, and Prang and Duran no longer are responsive to local residents. Challenger Steve Martin, an organizer of the term limits campaign, supports Measure C, as do Sam Borelli, Christopher Landavazo and Tristan Schukraft, the only other challengers who have demonstrated sufficient donor and community support to be contenders.
The incumbents, on the other hand, argue that governing West Hollywood is a complex process that requires experience.
The anti-incumbent argument gained steam in the 2011 campaign for three council seats. Challenger John D'Amico unseated Councilmember Lindsey Horvath, who had been appointed to the council with the strong backing of Heilman and Land after the death of Councilmember Sal Guarriello. But D'Amico's election wasn't that strong a blow to incumbency, given that Horvath had served less than two years on the council. It was more of a slap at Heilman and Land, who, with Horvath's loss, no longer could count on a three-vote majority and who D'Amico publicly criticized in his campaign. Reinforcing the notion that voters were pushing back against Heilman and Land was the fact that D'Amico was the top vote getter, besting both incumbents.
What may give more hope to the supporters of term limits and the candidates they support is the fact that D'Amico's grass roots effort was credited with boosting the election turnout, which had hovered between 4,800 and 4,100 voters in 2007 and 2009. In 2011, 6,105 people, or 25 percent of the city's registered voters, cast a ballot.
This time there's an actual organization of term limits supporters who have only Duran and Prang to target as incumbents. If the 3,454 voters verified as signers of the term limits petition all turn out tomorrow, they are likely to pose a significant threat to the incumbents, both of whom have declared their opposition to term limits. A factor that might mitigate the impact of term limits supporters on Duran and Prang is their endorsement by D'Amico, viewed in 2011 as a reformer and elected with Duran's endorsement. D'Amico, originally opposed to term limits, now backs the idea. But he also supports Duran and Prang and has said that none of the challengers are qualified to serve on the council. In so doing he has, perhaps ironically as a newcomer himself, backed a major argument of the contenders — that governing West Hollywood is a complex job that requires significant experience.
The most likely beneficiary of a strong term limits turnout is Martin, who was instrumental in forming the term limits group. A lawyer, he served on the council from 1994 to 2003 and has staged several unsuccessful campaigns to rejoin it.
Outside Developers Have Undue Influence
West Hollywood's various neighborhood organizations have fought with City Hall and developers for years over plans to build condominiums and commercial structures that sometimes have called for demolishing or changing the nature of existing and historic buildings. The battles have ranged across the city, from Plummer Park on the Eastside to Laurel Park in Midtown to the proposed Restoration Hardware project on Melrose Avenue and the redevelopment of 8899 Beverly Blvd., the former ICM building, on the Westside.
Opponents of these projects have argued that plans of developers and city officials will increase traffic in a city already difficult to navigate, make the "urban village" atmosphere more dense or commercial and increase housing costs for residents by adding more condos rather than rental apartments. They particularly object to "specific plan designations," an increasingly common maneuver in which the City Council allows a developer to contravene a zoning ordinance without voting to actually rezone the property being developed.
With the 2013 council campaign, the disparate neighborhood groups, which in the past have focused on their own hyperlocal issues, appear to have found a way to come together, largely through the support of many of their members for term limits.
The unification of neighborhood activists and their opposition to development makes the identity of campaign donors an issue for all candidates. Support for candidates by real estate interests is not new. An analysis by WEHOville shows that nearly 60 percent of Heilman's donors in the 2011 campaign could be identified as real estate interests. The numbers were 38 percent for Land and 30 percent for D'Amico, many of whose real estate donors emerged only after it was clear he had won the election.
But detailed examinations of  sources of campaign donations weren't published during the 2011 campaign– save for a brief story in Patch. In this campaign, WEHOville has published stories showing that 32 percent of Duran's donations come from real estate interests, many involved in currently contentious projects, as do 25 percent of Prang's. Support from real estate interests to the challengers has been insignificant.
Outsiders Influence the WeHo Council
Another issue facing the incumbents is the location of their donors, the majority of whom are people or businesses who do not live or operate a business in WeHo. They do, however, have other WeHo interests, such as the desire to develop West Hollywood real estate or ownership of billboards. The overwhelming number of Duran donors (71 percent) are from outside West Hollywood. The figure is 57 percent for Prang. The challengers have raised only a minor amount of donations from those outside West Hollywood.
Major outside donors also include companies that have or want to have contracts with the city for services. For example, Athens Services, the city's trash pickup contractor, has donated $10,000 to a special committee campaigning for Duran. Athens in December asked the city to extend its 10-year contract, for which the city pays $918,000 a year, to 15 years and automatically renew it each year. Athens wants the City Council to approve its proposal without putting the revised contract out to bid, which would likely draw a bid from Consolidated Disposal, the previous city trash vendor. In addition to the city's payments, Athens charges apartment building owners fees set by the city for trash pickup, making West Hollywood a lucrative site for the company.
Steve Martin/John Duran Are Unethical
Last-minute mailings and email messages by the Duran campaign have argued that Steve Martin is unethical and dishonest. Friends of West Hollywood, a Duran support committee, have noted in mailings that Martin was cited by the state Fair Political Practices Commission for moving $28,000 remaining in his campaign account for a 2009 state Assembly race into a city campaign account from which he made $2,600 in donations to other candidates in 2000. Martin has responded that he moved the money back into the state campaign account when he learned that the shift was illegal, returning some of it to donors and also making charitable contributions, both legal. Friends of West Hollywood also has attacked Martin for violating the law by mailing absentee ballot application forms whose return address was his. While that move by Martin was questioned during the 2011 election, it is not illegal according to City Clerk Corey Schaffer.
The challengers have focused their ethical challenges on Duran, who remains under investigation by the Los Angeles County District Attorney for allegedly misusing his city expense account. The allegation resulted in four council members quietly reimbursing the city for credit card charges in October last year, with Duran's $4,624 reimbursement by far the largest. Only Mayor Jeff Prang has not used a city credit card for expenses.