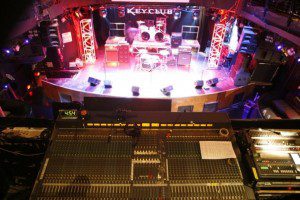 Sunset Strip live music venue the Key Club, known mostly for its hip-hop and R&B acts, will shut down on Friday, March 15, according to an announcement from the club's management on Monday.
"It is with a heavy heart that I share this news with you," said Operations Manager Ian Shepp in a press release. "This is our final goodbye as the Key Club on Sunset. It has been an honor and privilege to share our passion for music with you."
The venue, at 9039 Sunset Blvd. at Doheny, is located along a world-famous stretch of music clubs in West Hollywood, including The Roxy, the Rainbow Bar and Grill and Whisky a Go Go.
Shepp went on to say that the Key Club space will welcome a new project in the coming months.
"We've reached an agreement with our landlord that we would respectively not discuss this matter until the new project is announced on the 15th," he said. "As a Hollywood native and life-long fan of live music, I personally look forward to continuing my support of the live music culture in Los Angeles through future projects."
The Key Club (known as Billboard Live from 1996-1998) replaced Gazzarri's, a popular nightclub that held early performances from The Doors and Van Halen, but was demolished in 1995.