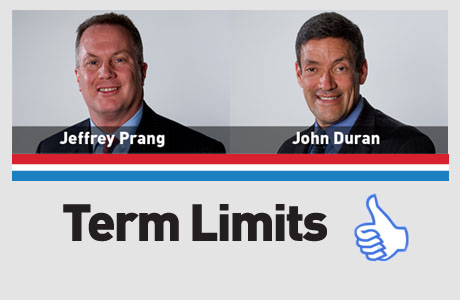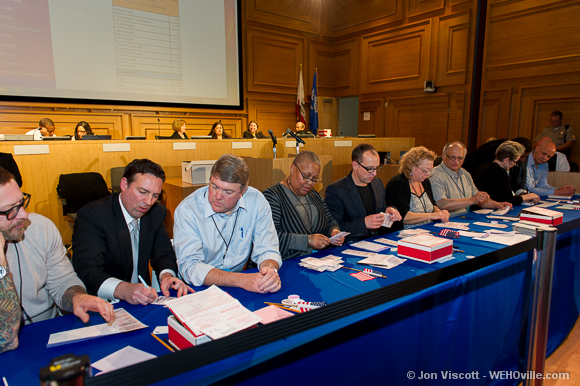 The incumbents are the best people for the job, but it's time for them to start mentoring a new generation of leaders. That was the somewhat mixed message West Hollywood voters sent via the ballot box on Tuesday as incumbents Mayor Jeffrey Prang and Councilmember John Duran were both reelected to the West Hollywood City Council but the term limits initiative passed by an overwhelming majority.
Measure C, the term limits initiative which will limit city council members to three four-year terms, passed by 62 percent – 2,690 "yes" votes to 1,653 "no" votes. Many thought that in the process of Measure C passing that one, if not both, incumbents would also be ousted. However, that was not the case as Prang garnered 2,395 votes and Duran earned 2,064 votes in unofficial results announced Tuesday night at the council chambers.
Attorney Steve Martin, a former councilmember who authored the term limits initiative, came in a distant third place with 1,393 votes, some 671 votes behind Duran. Some assumed the momentum Martin garnered in helping gather signatures to quality term limits for the ballot would also push him to victory in the council race. However, voters sent a clear message: they support term limits but not the outspoken, controversial Martin.
Public Safety Commissioner Sam Borelli came in fourth place with 787 votes while LA County sheriff's deputy Christopher Landavazo trailed closely behind him with 780 votes for fifth place. Rounding out the rest of the votes, businessman and former male model Tristan Schukraft received 333 votes, transportation innovator Nick Garzilli got 208 votes, actor Tom Demille earned 200 votes and office manager Rusty Wiggs pulled in 63 votes.
"I am grateful to the people of West Hollywood to allow me to continue to be of service," said Prang. "I am very humbled by my strong showing. I will continue to govern in the manner I have in the past. I am open and responsive to the people in the community and will continue to focus on the public policies that are important to the people of West Hollywood."
The term limits victory will have no immediate effect upon the makeup of the city council as it is not retroactive. All five of the current councilmembers will be allowed 12 more years in office, provided the voters keep electing them.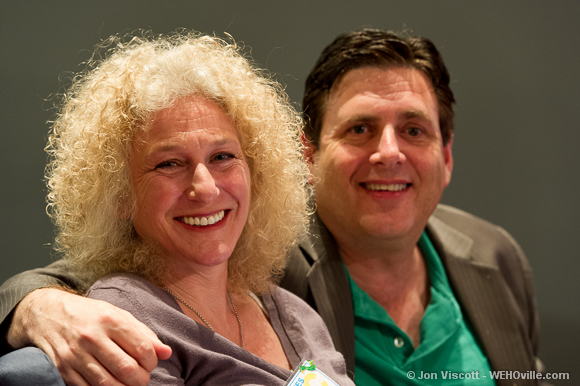 "West Hollywood voters sent a message tonight," said Yes on C campaign chair Lauren Meister. "Measure C ensures that West Hollywood has a mechanism in place to bring fresh perspectives and new energy to the council. It opens the door to broader public participation in the legislative process in our city, which benefits everyone."
At the Prang-Duran victory party held at the Robertson nightclub on Robertson Boulevard, even before the results started trickling in, optimism was high amongst the crowd of 100-plus people.
Duran read the results of each precinct aloud as they came in while a volunteer wrote those numbers on a giant poster on the wall.
Results from the first precinct strongly hinted Martin was in for a long night. Precinct 71, the western portion of West Hollywood West, a district where Martin was believed to be especially strong, had Prang in first place, Duran in second place and Martin a close third. As more results came in, Prang and Duran pulled ahead of Martin substantially.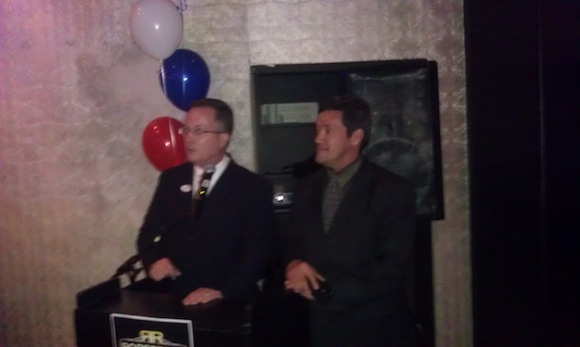 In fact, Martin came in third in every precinct except No. 6, the eastern portion of West Hollywood West, where he finished in second place to Duran's third. Certainly Martin felt the impact of the top two challengers also gunning for the incumbents, Borelli and Landavazo, whose roughly 800 votes apiece significantly bite into his portion of a larger potential vote.
"Steve knocked out the five incumbents (via Measure C passing), even if he didn't win himself," said resident Shelia Lightfoot, a term limits and Martin campaigner.
While many would have expected the mood at the Yes on Measure C party held at Eleven nightclub in Boystown to be exuberant, it was a more somber affair as that party also doubled as the site of the Martin victory party. With no live TV feed, the 50 or so people gathered around quietly watching the live feed of the city website's election page.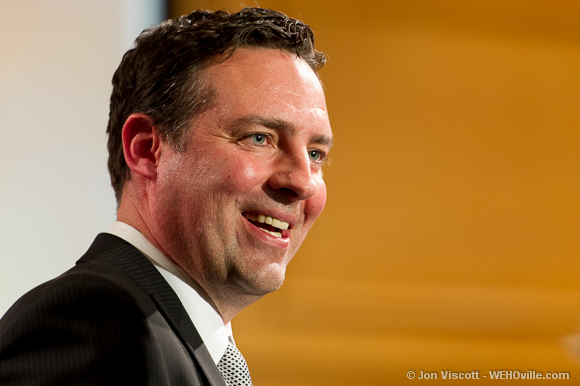 A similar situation played out at Kitchen 24 restaurant in Boystown, where the Borelli party was being held. Borelli campaign leaders kept an eye on the results via a laptop, the approximately 35 party-goers periodically coming over to ask about the latest updates.
"I'm proud to have run a campaign about the real issues facing West Hollywood," said Borelli.
Eleven nightclub became the place where the other candidates all gathered, at least briefly – Landavazo, Schukraft, Garzilli, Demille and Wiggs all dropped by to congratulate Measure C supporters and share condolences with each other.
"I'm exhausted and disappointed," said Garzilli. "But I met a lot of people who want to help me get transportation pods built."
With 4,580 votes counted Tuesday night and another 750-800 absentee and provisional ballots waiting to be counted pending signature verification, this election will top out at roughly 5,300 voters casting ballots. That's more than in 2009, the last time Prang and Duran were on the ballot, when 4,100 people voted. However, it is far less than the 6,100 people who voted in 2011, when three council seats were up for election.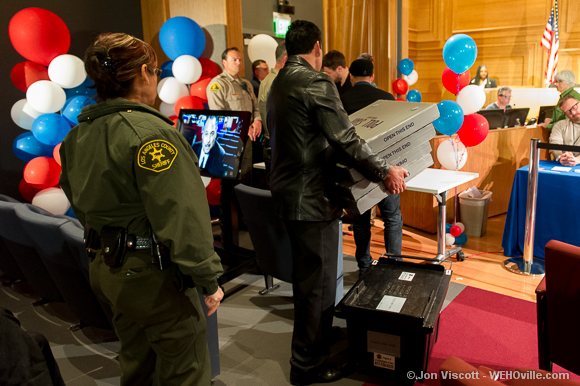 This election saw a rash of negative campaign mailers, more than in any previous municipal election combined. Many of those negative mailers came from the Duran supporters aimed at Martin.
"My mailbox has indigestion from all the negative mailers," said resident Larry Block.
"It's pretty clear that the negative mail hurt me," said Martin. "If it wasn't for the negative mail, at least one of the incumbents probably would have lost. When you've got $150,000 in developer money, you can do a lot of damage with it. I don't think anyone can look at this race with any sort of pride and claim victory."
The Yes on Measure C campaigners ran a positive campaign despite No on Measure C supporters trying to link them to Republicans, Tea Partiers and Prop 8 supporters.
"We said early on that term limits was not about any individual, that we weren't going to make it personal. We were going to talk about our love for the city, not about our anger about transgressions against it," said Yes on Measure C campaign manager Scott Schmidt. "We were going to give the people of West Hollywood hope that things can be better. That's the message (the voters) sent; they sent a message that they hope things can be better."
The 750-800 absentee/provisional ballots awaiting signature verification are currently scheduled to be counted on March 11. The city council will certify the election results at its March 18 meeting, when Duran and Prang will both be sworn into office again.
WeHo Term Limits Passes by Overwhelming Majority. See the story

here

.
Get a blow-by-blow account of election night at our live blog here.