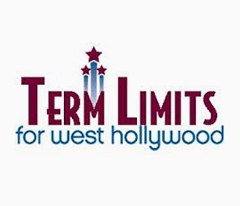 West Hollywood voters Tuesday passed a measure imposing term limits on City Council members by an overwhelming majority. The measure, dubbed Measure C, won 62 percent of the 4,343 votes cast. The measure was promoted by its supporters as a way to eventually dismantle a system in which council members, with few exceptions, stay in office until they die or decide to step down.
The measure will have little immediate effect, however. While it restricts council members to a maximum of three four-year terms, it is only applicable from this point forward. Thus Councilmember John Heilman, who has served on the council since the city's founding in 1984, will be able to serve 12 more years if he wins re-election in 2015.
Proponents of term limits, whose campaign was dubbed "Yes on C," have argued that council members are beholden to out of town campaign donors, primarily real estate developers, billboard owners and city vendors, and have little incentive to pay attention to neighborhood concerns. Most donors to an independent committee established to oppose West Hollywood term limits were real estate developers and other businesses located outside West Hollywood.
Sitting council members have rejected the term limits supporters' accusation, arguing that they are responsible for the strong financial position of West Hollywood during a difficult economic time and for a city government that provides a wide range of services to its residents. They also argue that their experience is necessary to effectively govern the city. Only Councilmember John D'Amico has supported term limits, although he also has endorsed the incumbents in this election, declaring their challengers to be unprepared.
"West Hollywood voters sent a message tonight," said Yes on C campaign chair Lauren Meister. "Measure C ensures that West Hollywood has a mechanism in place to bring fresh perspectives and new energy to the council. It opens the door to broader public participation in the legislative process in our city, which benefits everyone."
"I want to personally thank the people of West Hollywood for engaging in the conversation about our city's future," said campaign consultant Scott Schmidt. "To the thousands who signed our petition, to the dozens who gave time or money, and everyone who voted today, I have this to say: we are the change we have been waiting for. You did what they said was impossible. Together, we can continue to do even more for West Hollywood because you understand that yes, we can do better."
"West Hollywood is fortunate to have many dedicated public servants who give so much of their time and effort to the City Council," Schmidt continued. "Measure C preserves their ability to continue serving—for as long as 12 years—but it also gives fresh faces and new voices a seat at the table as well. This was a win for everyone in West Hollywood."
Prang, Duran keep their seats. Read the story

here

.
Get a blow-by-blow account of election night at our live blog 

here

.