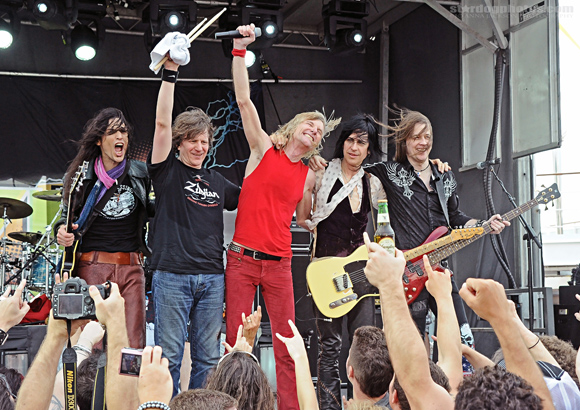 Dust off your spandex pants and shake up your Aqua Net, hard rock/heavy metal band Kix has endured the test of time and is coming to the Key Club on Friday.
The band, a 1980s and early '90s sensation, comes promising a stroll down memory lane, still playing hits like, "Don't Close Your Eyes," "Atomic Bombs," "Cold Shower" and "Sex," to name a few.
Once upon a time, way back in the 1980s, hair metal bands were fully embraced by the masses. Stadium arenas were filled to capacity with rabid fans gathered to witness their favorite shirtless troubadours in action on stage. They were first bathed in pyrotechnics and spotlights, then after in bras and panties.
Then grunge came along, with that darn Kurt Cocaine, and screwed it all up. His minimalist angst spoke more to the teenagers of the 1990s. Suddenly, hairspray rockers were a joke.
"It was a shame to all of us that our genre of music just got flushed for like 10 years," said Steve Whiteman, frontman for Kix. "There was a new party in town and we just weren't invited. All the best bands, we were just dismissed and declared uncool. Radio stopped playing us and clubs stopped hiring us. Money dropped so drastically that we couldn't survive. So we had to move on in our lives."
But now, Whiteman says it's cool again. "Everybody's able to get back out and re-live what they love to do."
With their sound retitled "classic rock," bands like Kix, Tesla, and Cinderella are experiencing a re-birth through radio station play, music festivals and the Internet. 
Kix began their journey in 1978 in Hagerstown, Md. They were first called The Shooze, which changed to The Generators and then to Kix. At the time, they were known as one of the best cover bands around.
"We started in the mid-70s," Steve said. "So all bands were cover bands. That's the only way you could get work. There was a bar on every corner. We made a living playing cover music. We did that for several years but in the meantime, we were writing and sneaking our originals in. People started to like our originals as much as our cover stuff."
The Beatles had an early influence on Whiteman.
"Everybody my age saw the Beatles on 'The Ed Sullivan Show' and went crazy," he said. "Then I got into some other stuff, Grand Funk and Cream and Led Zeppelin. I just always liked the heavier music."
Graduating from dive bars, Kix began gigging at Hammerjacks, a downtown Baltimore venue that was billed as "The largest nightclub on the East Coast." The club hosted many hair rockers, including Guns N Roses, Ratt, Skid Row and Extreme. John Waters featured the club in his film "Serial Mom," with L7 performing as the band Camel Lips.
Tragically, in 1997 the club was torn down to make way for a parking lot, courtesy of the Ravens who were building a new stadium and really needed the space.
"There are hundreds of great stories from Hammerjacks," Whiteman said. "[It] was such a unique room, it had a reputation about it on the entire East Coast. People would travel from New York, from Boston, from Florida, from the Carolinas to go to Hammerjacks. It had its own party atmosphere. It was just wild, there's no way to describe it."
In 1988, Kix released their fourth album "Blow My Fuse," which proved to be their most popular.
"That was the one that really catapulted us out of the clubs and into the larger venues, the arenas, going to Japan. That's the one that had hits on it, got us on MTV," Whiteman said. "That was 'the one' — by far my favorite record."
However, moving from the clubs to stadiums was not without difficulties.
"The very first tour we did, it was our first album. It was a slap of reality to us," Whiteman said. "We flew to Seattle, Wa. to open up for Triumph. And we were just a bar band that didn't know what the hell we were going for. I was still doing all the crazy stage club shit that I do and it just did not work in that arena atmosphere. And the guys in Triumph were just total dickheads. We lasted about three or four show and they kicked us off the tour (Laughs). We learned a lot from that."
But Kix has endured the test of time with the help of die-hard fans, and technology that has breathed new life into the band's music.
As for coming to WeHo, "We've always loved playing LA," said Whiteman. "We've always gotten good turnouts."