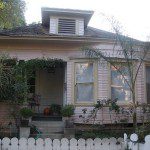 Groups involved in various neighborhood preservation issues across West Hollywood have joined forces in the new West Hollywood Preservation Alliance.
The Alliance includes groups such as Hollywood Heritage, Save Pickfair Studios and Protect Plummer Park.
Jen Dunbar, president of the Alliance, said she was inspired to try to form the group when she nominated Long Hall-Great Hall in Plummer Park for inclusion on the National Register of Historic Places. The City of West Hollywood has been pursuing a redevelopment plan for the park, currently on hold after funding was taken away. The former plan would have required demolition of the building.
"… I realized that there was a need for organized advocacy of historic structures in West Hollywood," said Dunbar. "It seems that at every City Council meeting there is an issue with yet another significant building. It's time to develop strategies that will nurture an ongoing love for our built environment."
The new group will hold a public meeting at 7:30 p.m. on March 11 in Room No. 4 of the Community Center at Plummer Park. The park is located at 7377 Santa Monica Boulevard. The meeting will focus on recruiting new members, establishing committee members and goals, developing strategies for current preservation issues and planning for future events.
Others active in establishing the alliance are treasurer Victor Omelczenko, who has worked with Hollywood Heritage, a similar organization focused on Hollywood preservation. He is relying on advice from Hollywood Heritage leaders in his new role.
"Hollywood Heritage has plenty to do east of here, but our legacy is directly connected with them. We're excited that we will be able to ally with them as necessary," he said
Laura Boccaletti, an Alliance board member at large, became active in historic preservation issues when she learned of the city's plans for Plummer Park. Lyndia Lowy, previously a member of West Hollywood's redevelopment citizen advisory group, the Eastside Project Advisory Commission, is serving as secretary of the new organization.
"The Eastside is filled with bungalow courts that have never been inventoried by the City," she said. "We hope to take stock of this marvelous resource before we lose it."
Vice president Roy Rogers Oldenkamp started leading walking tours on North Laurel Avenue as a way to increase awareness of the house its preservation advocates have dubbed "Tara" on Laurel Avenue. Faced with opposition from residents, the city backed away from plans to build subsidized housing on the property, which now will become a community center with the house preserved.
The Alliance has launched a website where prospective members can join.