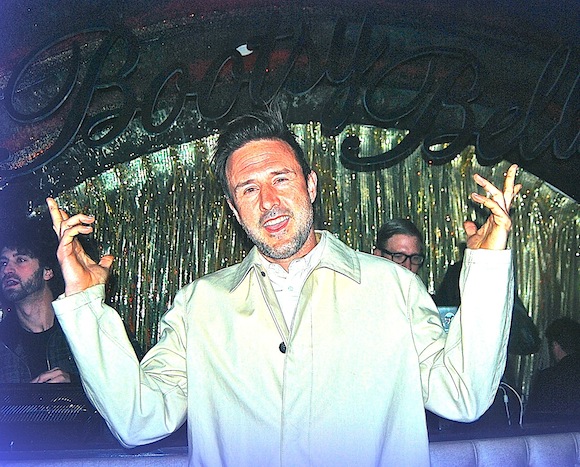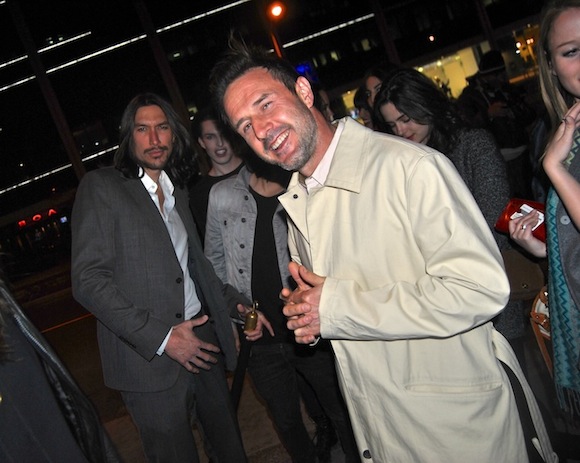 [dropcap]W[/dropcap]est Hollywood and Hollywood proper continue to birth some of the most buzzed-about nightclubs in the world, attracting celebrities, well-connected types and rabid paparazzi at their doors every week.
At Bootsy Bellows (9229 Sunset Blvd., east of Doheny), you'll see all of the above, but that's where the similarity with other venues ends. Bootsy, which opened its doors last summer, may call Katy Perry, Robert Pattinson and L.A.'s usual sauced-up starlets (Paris Hilton) regulars, but the vibe once you get inside is inclusive and unselfconsciously zany … cool, but not too cool.
Flashing lights, hip-hop hits and blaring dance re-mixes make the place thump as attractive ladies in tight dresses flutter about and bling-covered fellows hold court at bottle service tables, but the circus-like environment belies the lack of pretension of its more In-crowd patrons. This is thanks to its most high-profile owner, the wacky ringleader of sorts: actor, famous family member (and famous ex), not to mention all-around quirky good guy, David Arquette.
While Arquette's consistent acting gigs have helped him transcend his familial ties (the Arquettes are one of Hollywood's best known acting families, while the success of ex-wife Courteney Cox casts its own shadow), it is his role as a nightlife impresario that he's basking in at the moment, and it's how he's best known in WeHo these days.
"If I'm in town, I'm there," said the 41-year-old "Scream" franchise star, who named the hot spot after a pseudonym his mom used back in her pin-up modeling days. "Acting is great. But even in a play, you don't have that full interaction with the audience. At a nightclub it's a more personal thing."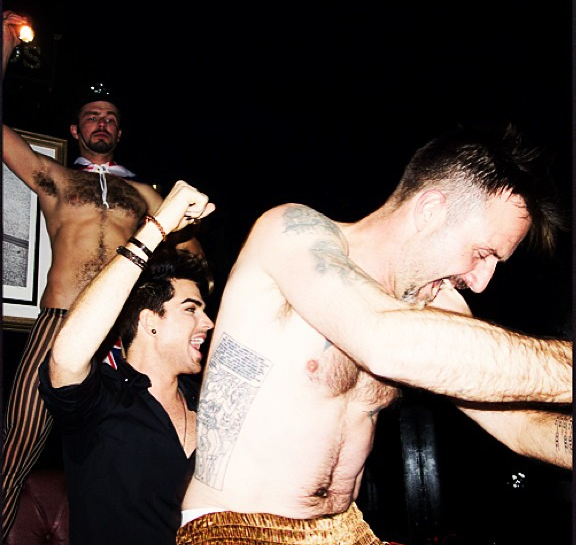 At his club, Arquette gets up close and personal with almost everyone. He goes up to tables to meet and great guests, donning various costumes all night (Elvis and Rocky Balboa are two of his favorites), puppeteering on stage and in the middle of the dance floor and playing trumpet on occasion. Sometimes he even gives lap dances. Well, at least he did for singer Adam Lambert, who had his birthday party at the club a couple weeks ago.
Though he regularly participates in the revelry, he does it lucid these days. Two years sober, Arquette cites the club, ironically, as one of the things that keeps him away from the booze. "It can be a bit hard sometimes but I don't really get tempted," he said. "That's kind of why I like occupying myself there, having fun, meeting people and doing all I do. I'm just celebrating life."
Things weren't so celebratory pre-rehab. 2011 marked the very public end of his marriage, a regrettable Howard Stern interview and the decay of his partnership in another nightlife venture, Beacher's Madhouse at the Hollywood Roosevelt Hotel (which he prefers not to talk about).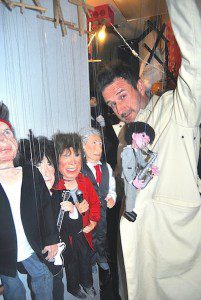 Arquette's love of flamboyant dress up and puppets is always present at the club, but his desire to showcase unique entertainment in a more focused setting is manifested in his monthly dinner theatre shows, serving up unique small plates (tater tots, mini chicken pot pies) with a vaudevillian mix of burlesque, magic, comedy and music, all harkening to the Sunset Strip's gangster and glamour girl heyday.
Before it was a metal Mecca in the '80's or even a hippie hub in the '60's, the Strip saw debaucherous good times during the '20's speakeasy era. The underground party scene went high-profile in the '30's at destinations such as Players Club and Cafe Trocadero (the "Troc"), which drew Hollywood elite such as Lana Turner, Tyrone Power, Fred Astaire, Jean Harlow, Clark Gable and Bing Crosby, as well as crime figures such as Mickey Cohen and Bugsy Siegel. The star-studded revelry continued on the strip in the '40's with Ciro's (now The Comedy Store), a favorite hangout of Marilyn Monroe, Jimmy Stewart, Frank Sinatra and Sammy Davis Jr. They enjoyed dancing, food, burlesque shows and comedy inside these lively rooms, making for a mixed bag of amusements.
In many ways, Arquette's doing the same thing at Bootsy, attracting a mix of famous faces and fans of old-fashioned frolic. Magician Rob Zabrecky, musician Kristian Hoffman, singer Lynda Kay and burlesque babes Selene Luna and Ruby Champagne may not get ink in "US Weekly," but thanks to the exposure Arquette gives them at his dinner shows, they are getting exposure to new audiences.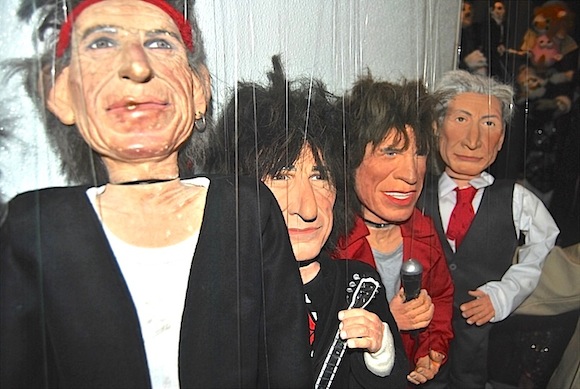 Dinner shows may be less frequent than the popular DJ-driven nights, but the venue's old-timey charm shines through no matter what is going on. Each room screams sexy retro romp in the art and decor elements, including reproductions of '50s and '60s lighting fixtures everywhere, vintage-style vinyl booths, the circular stage with big white bulbs spelling out "Bootsy Bellows," which is the focal point of the main dance room, and finally, of course, the many photos of Bootsy herself (topless, wrestling other gals, tied up ala Bettie Page).
"The old cheesecake shots of my mom get a lot of attention," said Arquette, who first discovered his mother's past while flipping through an old book about pin-ups. "I had no idea she did any of that before I saw it. I started collecting it after she told me about her past."
By-gone era aside, Bootsy Bellows still retains a modern must-go mystique thanks to the celebrities and hip kids who flock there. Arquette may be the Hollywood name attached, but his partners — entrepreneur John Terzian (founder and principal of the h.wood Group, known for nightlife ventures such as SHOREbar and past faves Las Palmas, h.wood, and The Tea Room), Brian Toll and Markus Molinari — all bring successful backgrounds in nightlife to the table. Terzian said that Arquette focuses mostly on the show and marketing aspect of Bootsy's, while he's in charge of the daily operations.
"I've been friends with David for a few years and I always wanted to work with him," said Terzian, who was looking for something a little different from his previous ventures. Known for being somewhat eccentric, Arquette's involvement ensured that. "The WeHo nightlife culture has always been about being original and being yourself. Bootsy's embraces that type of spirit. "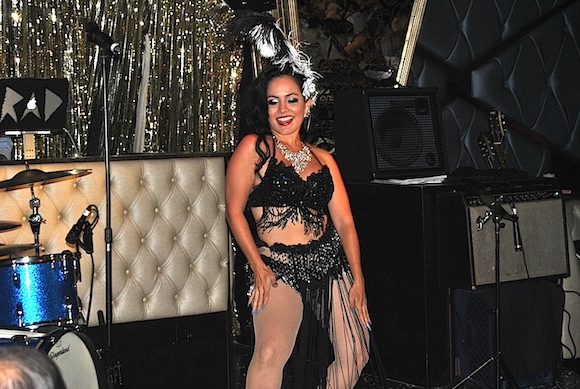 Together, these guys are helping to keep the star-studded history of the space more than alive. Bootsy took over the space formerly known as Trousdale (the popular club from party producer/promoter and former star of "The Hills," Brent Bolthouse), as well as the one before it called Foxtail (which Bolthouse opened with SBE nightlife group's club king Sam Nazarian, before the pair parted ways). Way, way back it was Bar One, also known for tabloid-worthy patrons, like kids from "the Brat-Pack" and "90210" cast.
In many ways, Bootsy is part of a return to the Strip-as-celeb-hub. Back in the day, everyone wanted into Bar One and Roxbury (now Harry Morton's Pink Taco). Sky Bar at the Mondrian had its moment, as did The Standard Hollywood. Chateau Marmont continues to be a star haunt, but it is newer spots like BOA, Soho House and Bootsy Bellows that have helped put the end of the Strip back on the map.
And while Sunset's live music venues will always be its heart and soul for many, its swankier side, and the attention that brings, seems to be good for everyone from a business standpoint At least the major players on The Strip think so.
"Two years ago, none of those businesses were there," said Todd Steadman, executive director of the Sunset Strip Business Association. "These great concept spots, including RivaBella (in the former Hamburger Hamlet space) which just opened this month, are creating a desire to patronize the area. The Sunset Strip's variety is its main attraction, and Bootsy Bellows is contributing to that."
"When BOA came in, followed by Soho House and now Bootsy, it really revitalized the west end of Sunset," said Nic Adler, owner of the Roxy and producer of the Sunset Strip Music Festival. "I call that part of the Strip, 'the BOA triangle,' and those venues have really helped to create energy where there was none."
Arquette was born in Virginia, along with actor siblings Rosanna, Patricia and Richmond. His brother (now sister, thanks to a sex change) Alexis Arquette was born in L.A. He was 5 years old when the family moved to Hollywood. Over the years, he says he moved around West Hollywood and Beverly Hills, where he currently resides in the house he used to share with his ex-wife. The pair share custody of their daughter Coco.
Living near and around the Sunset Strip, Arquette says he has always had an admiration for its nightlife. "I wasn't into the metal stuff. I was a big break dancer, graffiti guy," he said. "I went to Brent's (Bolthouse's parties) a lot and shows and stuff too."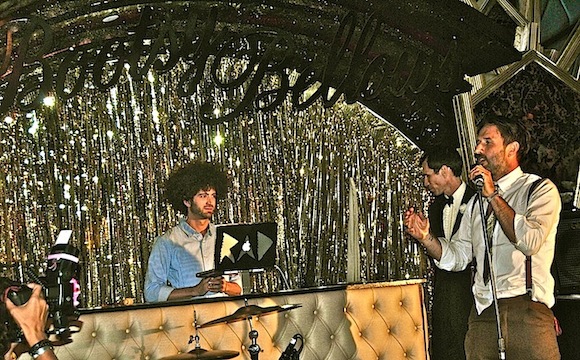 Like the Bolthouse parties of yore, Bootsy can be tough to get into (you need to be on a list or be willing to wait while those who know the doorman or DJ saunter in past you). Even harder to get into is its much-talked about back room (which we thought was the VIP room, but Arquette says it is more like another club in the club, where the music is more eclectic and the vibe is more chill).
"I don't like people with attitudes, or those who strut around thinking they're better than other people," said Arquette. "I know it is an element within the club scene, but it drives me crazy. I hate to hear if somebody had a hard time at the door."
Adding to the velvet rope commotion, paparazzi and autograph seekers are outside every night the club is open. Though crowds sometimes gather, Steadman said there have been no problems or security issues in the area since Bootsy opened (one of the Sunset Strip Business Association's functions, he said, "is to provide a safe, clean environment on the boulevard"). Limos often drop off its more famous patrons, but the blocks west of Doheny don't see nearly the congestion that the stretches in front of the Chateau or the Standard do. There is also a convenient public parking lot next door.
"The more variety we have on The Strip, the better," said Adler. "As The Strip has matured, there's more options with new places like Boosty Bellows. Over the past seven years or so, we've become a more well-rounded nightlife destination. Now we need more gateway venues — transitional hangouts that will keep people from different walks of life on the Strip —  to bridge the gap between the different businesses. We want people to feel comfortable hopping around The Strip."
If Arquette has it his way, Bootsy will eventually bridge the gap with different types of entertainment and scenes. "I'd love to have a gay club soon and more live music too," he said.
As an actor, Arquette is known for his child-like enthusiasm and Bootsy is very much his playground. He is nostalgic about the escape and excitement nightlife can provide younger crowds, even if he's only an observer to the after-dark world's more decadent carousing now.
Indeed, Bootsy Bellows marks a full circle point in Arquette's personal journey. Bar One was the first club he ever went to, and one of his "rock bottom" moments occurred in the same venue, when it was Trousdale. "I was doing the kickworm (break-dancing move done on the floor) and I broke my nose," he said. "I quit drinking right after that."
That night is a big reason why the bottles that surround him today don't beckon.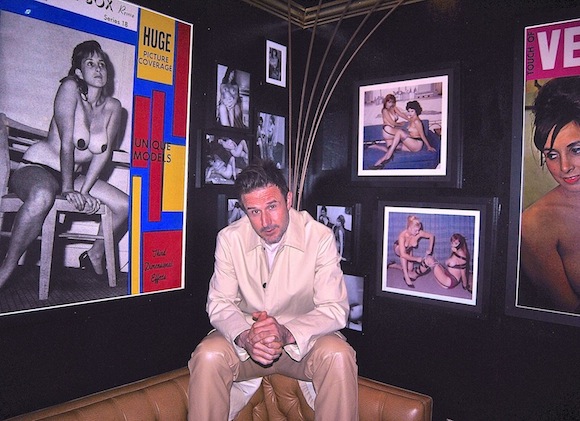 There are also the old-school touches he's brought to the space that make it homey for him: his private puppet room near the kitchen (really a large closet filled with stringed friends and costumes) and the backroom's most prominent bottle service booth swathed with shots of his mother in various states of undress.
"The nude pics of my mom are odd to a lot of people, but to me I look at it as she was really young … She was as young in these pictures as the girls walking around the club," he said, trying to make a connection between his family's past, his own life and the current clubster crops. "Everybody does wild things when they're young … it's about experiencing things, learning, growing … finding yourself sexually and finding your personality. It reminds me of when I was younger, going to Bar One, running around doing crazy things. At some point you become an adult. But you can still have fun too."
— All photos (except for Adam Lambert's) were taken by Lina Lecaro.