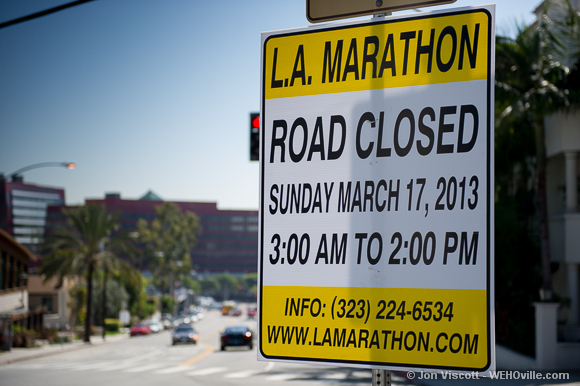 This Sunday, an estimated 25,000 runners will come through WeHo, mostly along the Sunset Strip, as part of the Los Angeles Marathon.
Runners will first arrive at Sunset Boulevard coming up from Havenhurst Drive, before traveling through the Strip. On Sunset, they'll have a view of many of our city's most iconic landmarks, such as music venues the Roxy, Whisky a Go Go and Viper Room, and the Sunset Tower.
Runners will then take a left at San Vicente Boulevard before exiting the city along Santa Monca Boulevard. Miles 13 through 15 of the 26.2-mile course will occur in town.
The marathon begins at Dodger Stadium and finishes at Ocean Avenue in Santa Monica.
To accommodate the marathon, the following West Hollywood streets will be closed on Sunday between the hours of 4 a.m. and 2 p.m.:
Sunset Boulevard between North Havenhurst Drive and Clark Street/North San Vicente Boulevard
North San Vicente Boulevard between Sunset Boulevard and Melrose Avenue
Santa Monica Boulevard between La Cienega Avenue and North Doheny Drive
North Doheny Drive between Santa Monica Boulevard and Beverly Boulevard
Parking will not be allowed along the race course. "No Parking" signs will be posted before the event. Vehicles in violation will be ticketed and towed at the owner's expense. Public parking in West Hollywood will be available at the following locations for a fee:
City Hall Parking Lot
8300 Santa Monica Boulevard
Corner of Santa Monica Boulevard and Sweetzer Avenue
Kings Road Parking Structure
8383 Santa Monica Boulevard
Corner of Santa Monica Boulevard and Kings Road
La Jolla/Havenhurst Lot
1046 Havenhurst Drive
Santa Monica Boulevard and Havenhurst Drive
La Peer Lot
623 La Peer Drive
Melrose Avenue and La Peer Drive
Orange Grove Lot
1114 N. Orange Grove Avenue
Santa Monica Boulevard and Orange Grove Avenue
Pacific Design Center
8687 Melrose Avenue
San Vicente Boulevard and Melrose Avenue
Spaulding Lot
7718 Santa Monica Boulevard
Santa Monica Boulevard and Spaulding Avenue
901 Hancock Parking Structure
901 Hancock Avenue
Santa Monica Boulevard and Hancock Avenue
West Hollywood Park Parking Lot
647 N. San Vicente Boulevard
San Vicente Boulevard and Santa Monica Boulevard
West Hollywood Park Parking Garage
619 N. San Vicente Boulevard
(enter parking structure from Robertson Boulevard at El Tovar Place)
El Tovar Parking Lot
8752 El Tovar
El Tovar Place and east of Robertson Boulevard
For more information, call (213) 542-3000 or email info@lamarathon.com or contact the City of West Hollywood's Special Events Division at (323) 848-6307.
Below, see freelance photographer Jon Viscott's photos from last year's marathon: