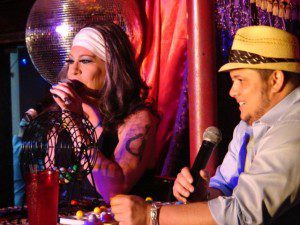 Chaz Bono will be the ballcaller at Hamburger Mary's Legendary Bingo event this Sunday.
Bono, a transgender advocate, writer and musician is the child of entertainers Sonny and Cher. He has been writer-at-large for "The Advocate," a social activist as a spokesperson for the Human Rights Campaign and National Coming Out Day, and served as the entertainment media director for the Gay and Lesbian Alliance Against Defamation (GLAAD).
Bono publicly came out as a lesbian in "The Advocate" in 1995 and went on to write two books explaining the process of coming out in "Family Outing: A Guide to the Coming Out Process for Gays, Lesbians, and Their Families" and the memoir "The End of Innocence."
Between 2008 and 2010, Bono underwent a female-to-male gender transition.
Bono will call the balls at the 6 p.m. Sunday show, which runs to 8 p.m.
Legendary Bingo has been around since 1998 and advertises itself as "Los Angeles' most popular and longest running weekly charity event." Hamburger Mary's is known for its drag queen performances, and was even one of the locations for the season finale of RuPaul's All-Star Drag Race.
For a look at playing Legendary Bingo, see our first-hand account from freelance reporter Brendan Shucart here.