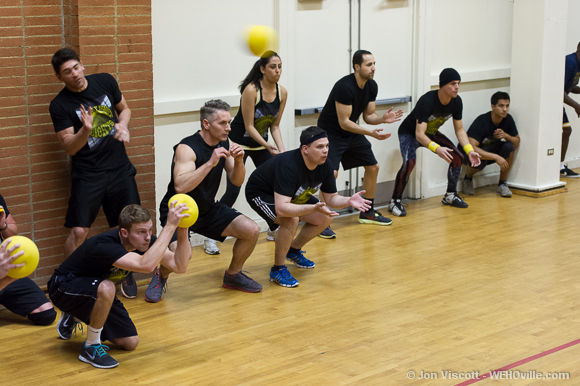 Tuesday night's big dodgeball match turned out to be a bitter battle, pitting two highly ranked teams against each other. Tuesday Night Lights took on Ballz Deep, providing Ballz with an opportunity to launch into a top spot with a win.
Tuesday Night Lights took the first three games and weathered the eviction of team member Josh Lever after two yellow cards (It's all fun and games until someone gets a red card). But Ballz Deep came back for a win, trailing 3-1 at the half.
Although tensions ran high during a few choice moments, league master Jake Mason always makes sure fun is a priority. When the music hit a low point during the night he could be heard calling out, "Miles, turn it up!" The players are often encouraged to dance around on the court during game time.
Play heated up even more in the second half as Ballz Deep made a run, closing to within 4-3. Players heatedly disputed some of the calls.
However, in the end, Tuesday Night Lights held out for the buzzer, and squeaked out the 4-3 win.
[hr_dotted]
All final scores below:
D4D 8, Rise of the Unicorns 0
Heathers 7, Misfits 1
Better Late Than Pregnant 7, Not In The Face 3
Amazeballs 7, It Gets Butter 1
Tuesday Night Lights 4, Ballz Deep 3
Boobie Warriors 6, Power Bottoms 2
Below, see photos from freelance photographer Jon Viscott: