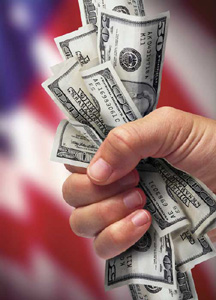 The West Hollywood City Council will be asked on Monday to take one step forward and one step backward in reforming the city's odorous political campaign finance system.
The step forward is a proposal by Councilmember John Heilman that would prohibit lobbyists from serving as campaign consultants for candidates running for the West Hollywood council. The ordinance also would prohibit the appointment of campaign consultants and lobbyists to any board or commission or any city position that requires the filing of a financial disclosure form. In other words, Steve Afriat, who has managed or been involved in the campaigns of four of the five sitting council members while serving as a lobbyist for businesses with major interests in the city, would have to butt out of WeHo politics.
The step backward is a proposal, supported by all but Councilmember John D'Amico, that would eliminate the current six-month deadline for council candidates to raise money to pay off campaign debts. The argument for it is a technical one: State law bars a candidate from "closing" his or her campaign committee if it has an outstanding debt. (We ask: Why are candidates spending money they don't have?) The argument against the proposal goes to the heart of WeHo's campaign finance system, in which outsiders interested in making a buck off West Hollywood pump thousands of dollars into every City Council race.
We saw that happen in the March 5 campaign, where outside real estate interests, city vendors and billboard owners overwhelmingly backed incumbents Jeffrey Prang and John Duran in their successful campaigns for re-election. The same thing happened in the 2011 race, with a twist. In that race, the real estate interests put their money on the incumbents (in West Hollywood, always a smart bet). But when challenger John D'Amico actually won a council seat, they steered some of their dollars his way.
We know that our council members say they can't be bought. But we also know that shrewd business people, who don't live in West Hollywood, are unlikely to fund local campaigns unless they get something in return. We also know, from reading the campaign finance reports, that council members use their excess political campaign contributions to make donations to a host of non-profit organizations, on some of whose boards sit those who seek to do business with the city, and to political groups with which they want to curry favor.
The West Hollywood City Council has a deserved reputation for being progressive and enlightened. It also has a growing reputation for being out of touch with the people who live here and being hungry for outside business dollars. Approving Heilman's lobbyist-as-campaign-consultant ban and setting the day before an election as the deadline for campaign contributions would show the Council doesn't want sunny West Hollywood to become the cold and dark Chicago of Southern California.