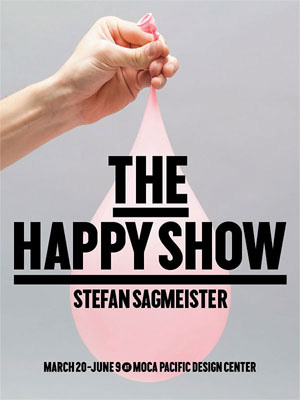 Tuesday, March 19
Thirteen new exhibits open on the second floor of the Pacific Design Center's Blue Building on Tuesday, just before the PDC also hosts West Week.
The Blue Lobby will feature work from minimalism pioneer Ronald Bladen and the PDC will also present "Stefan Sagmeister The Happy Show," an exhibit centered on Sagmeister's 10-year personal exploration of happiness. Much of his exploration was shown in his documentary "Happy Film."
Opening on March 20 will be "Altered Egos" an exhibition of more than 100 photographs by portrait author and photojournalist Nancy Ellison.
As far as the other 13 opening exhibits, highlights include a solo exhibit by current Palm Springs Museum artist-in-resident Cristopher Cichocki at See Line Gallery and SWERVE, a sculptural installation by Caroline Cox at Another Year L.A. and the latest from Young Projects, a 3-D show from Turkish artist Refik Anadol titled "Z-Axis: The Use of 3D in Contemporary Video Art."
The opening reception on Tuesday will run from 5 p.m. to 8:30 p.m.
PDC Galleries are open Tuesday through Friday, 9 a.m.-5 p.m., and exhibitions stay up for about two months.