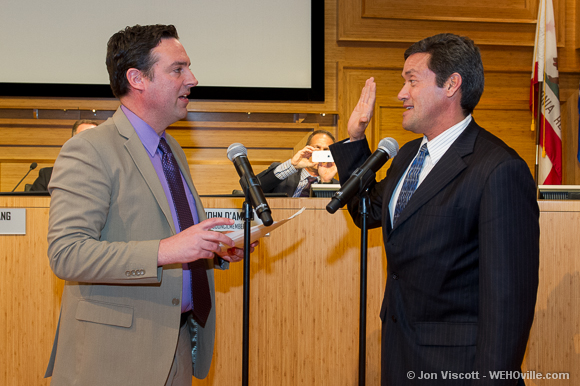 West Hollywood Mayor Jeffrey Prang and Councilmember John Duran, both of whom were re-elected to office in the March 5 election, were sworn in for another four years at Monday night's West Hollywood City Council meeting.
Superior Court Judge Zeke Zeidler, a longtime friend of Prang, administered the oath of office to Prang while city clerk Corey Shaffer swore Duran in.
"It's always nice to win," said Prang. "Never for a moment do I forget who I work for. This council seat that I hold is not mine, it is yours. I am a temporary occupant of it."
'Prang said he was as enthusiastic about the job today as he was when he was first elected to the Council in 1997 and that he was humbled by all the people who worked on his campaign.
Duran thanked the many volunteers who worked on his campaign and the people who voted him back into office.
"At the end of the day, most people in our city are very proud of where we are," said Duran. "Today we are the envy of Southern California with record surpluses. We're redeveloping our parks. We built this council chamber, a new library, continue to provide high levels of social services to all our residents. The West Hollywood story is a success story of what a small town can do with a lot of people who are deeply committed to it."
Their colleagues on the council also congratulated them on their wins.
"I think the people spoke," said Councilmember John Heilman. "They spoke loudly and correctly. Glad to have both of you back."
Councilmember Abbe Land said she was "heartwarmed to see how overwhelming the election was" and Councilmember John D'Amico said he was not surprised the two won.
"It was my honor to walk and knock on doors and talk with our neighbors and talk about what a pleasure it is to work with both of you," he said.
Later in the meeting, the council voted Land to serve as mayor for a one-year term beginning in April, when Prang's year-long term ends.
The council also voted D'Amico to serve as mayor pro tempore for the next year. Heilman nominated D'Amico, saying it was his turn.
The inauguration of Land and D'Amico will take place on April 15 at 6 p.m.