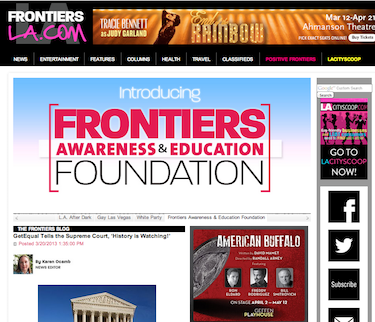 Frontiers Media, the financially troubled publisher of Southern California's leading gay magazine, has filed for bankruptcy protection from its creditors.
The filing, made March 6 in the U.S. Bankruptcy Court for the Central District of California, claims Frontiers has liabilities of $3.2 million and assets of $342,000, only $58,000 of which is in cash.
Frontiers made a Chapter 11 filing, which, if approved by the bankruptcy judge, will allow it to continue operating. A bankruptcy trustee and the bankruptcy court will decide which of Frontiers' creditors are paid and how much they receive. The company's largest creditor is Wells Fargo Bank, to which it owes $1.6 million. Another major creditor, owed $242,000, is the estate of Mark Hundahl, who, until his death in December, was co-owner of Frontiers LA with publisher and owner David Stern. Stern himself argues that he is owed $191,600. Other major creditors are printers, lawyers and the landlord for Frontiers' offices at 5657 Wilshire Blvd. in Los Angeles. Frontiers also owes payments to freelance writers, some of whom haven't been paid in several months. Its bankruptcy filing indicates it owes $5,560 to Frank Morales, associate publisher and ad director at Frontiers Media, and $3,942 to Dustin Tyner, managing director of integrated media. Payments owed to employees totaled $37,000 on March 6, according to the filing.
"Mark Hundahl and I, as the publishers of IN Publications Inc., purchased Frontiers in 2007 when the landscape of media looked quite different," Stern said. "With the passing of Mark in December 2012, I felt this was the right time to restructure the debt of Frontiers Media so we could remain a strong and viable resource for the LGBT community."
"So, after careful consideration of various economic factors, we made the decision to enter formal Chapter 11 restructuring. Our circulation and advertising base remain strong, and we fully expect to emerge from the reorganization process on sound financial ground. Filing under Chapter 11 will not only allow Frontiers to publish its biweekly editions while restructuring certain legacy costs, but also to propose a future operations plan to the court that further enhances the company's value."
Stephan Horbelt, editor of Frontiers, emailed staff and freelance writers Tuesday to reassure them. "Many of you have reached out to me after receiving notice that Frontiers has filed for Chapter 11 bankruptcy," he wrote. "While I've done my best to reassure those who reached out that nothing will change with regard to editorial and my (wonderful) writers receiving payment for past issues, let me say once again that the magazine is not folding and will continue to go on as before with no noticeable changes. The court has approved payment of what all our writers are due, before and after restructuring of Frontiers' debt. I look forward to continuing to work with you all for much longer!" Horbelt's co-editor, Aaron Drake, quit abruptly on March 5, the day before the bankruptcy filing.
According to Stern, a 90-day operating budget was approved by the judge on March 11, and ensures that employees and writers would be paid.
According to the latest court filings, the bankruptcy judge still has to rule on Frontiers' proposal regarding payment of its creditors and the restructuring of its business. Two proposals have met objections from Peter Anderson, the court-appointed bankruptcy trustee, whose role is to assure that creditors are treated equitably. Anderson objected to a proposal to pay Stern $150,000 a year, noting that in the 12 months preceding the bankruptcy filing Stern was paid only $82,296. Anderson also objected to Stern's proposal that he be given a car allowance of $978 a month to pay for his Fiat 500 HB 2012 and a business expense allowance of $785 a month. Anderson argues that both payments exceed the amounts given to Stern in the previous 12 months.
Frontiers, whose 31st anniversary will be celebrated in April, distributes 30,000 copies twice-monthly throughout Southern California, with circulation concentrated in San Diego, Long Beach, West Hollywood and Palm Springs. The 5,000 copies it distributes in West Hollywood make it the city's largest circulation print publication. While its content is almost entirely focused on LGBT issues and entertainment, it sometimes covers West Hollywood-specific political issues. Another LA-based LGBT magazine also is experiencing apparent difficulties. The Advocate, founded in 1967 and billed as the oldest LGBT publication in the United States, announced in January that it would begin newsstand sales of the magazine, which since 2009 had been available only by subscription. According to Stephen Macias, a public relations representative for Here Media, The Advocate will now publish six times a year. The Advocate is owned by Here Media, which also owns Out, a style-oriented gay monthly, and Here, the gay cable television network.