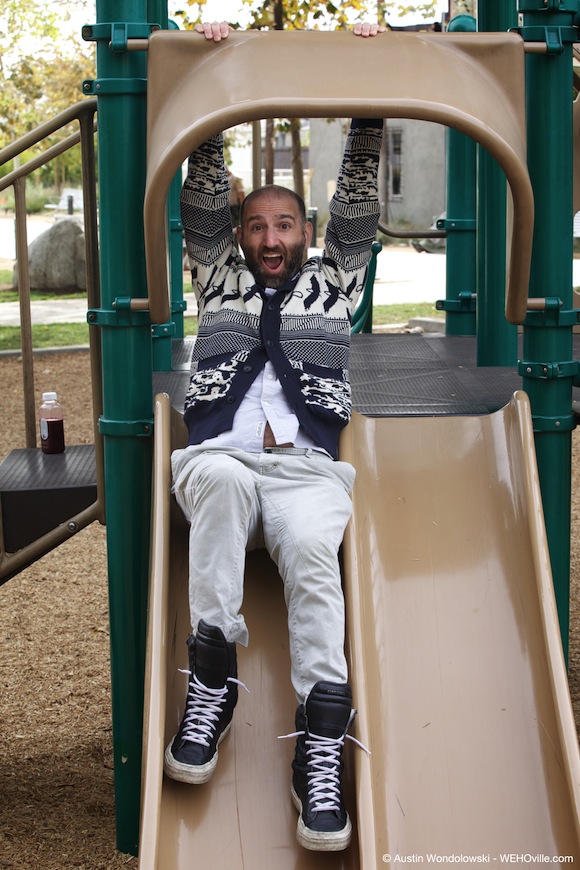 Style maker Darren Gold isn't afraid to bring out his inner kid.
As co-founder of Alpha, he describes his store as "the only online resource you will need for men, boys, and men who still think like boys."
His men's lifestyle store, formerly in WeHo, is a one-stop shop for gifts with a "well-edited selection of both whimsical and practical items … for male challenges of how to love, groom, learn, look and entertain."
Basically, it's a grown-man's candy shop, with everything from grooming products to gadgets.
His diverse background includes the production, selling and marketing (at age 27) of an independent film seen on Lifetime ("All Of It"), work as an executive at a DreamWorks film production company, head of operations at style365.com (a high-end fashion and lifestyle web site), partner in Mhope (a high-end women's fashion line) and finally, his current gig as co-founder of Alpha. He is known as a player in LA's fashion scene.
He also currently serves as the Chairman of the Board of the Avenues: Art. Fashion, Design District in West Hollywood, a business improvement district of luxury boutiques, galleries and showrooms.
Gold was born in New York, grew up in Michigan and has lived in LA for 14 years.
[hr]
In his own words, here is Darren Gold's perfect Saturday in West Hollywood:
Saturdays are a new concept to me. Having been a merchant for nine years, Saturday has always been the busiest retail day — the day to meet with my favorite clients, or friends who need help with their shopping. Now that I am not inside my stores every weekend, I can enjoy the day like my customers and take part in all of the city's weekend happenings.
I like to start out my weekend slowly with a warm-up that's a little different than the rest of my week.  So, I head to Alfred Coffee. This charming coffee shop inside a former dance hall on Melrose Place serves Stumptown Coffee, and they make a mean Gibraltar, which they told me is like a latte but with less milk. It's funny how we like to say "it's so not LA" about some of the best places in town, but it really is like nothing else in LA. It's a hip, but calm oasis to enjoy before the day gets going.
If you haven't seen the LA Times newish Saturday section, it is my favorite part of the paper: Design, culture and food all in one place. I love to just sit there, read the paper and people watch. The employees are outfitted in Rag and Bone and the crowd tends to be the fashion set, so it's a great place to actually be able to observe what's going down on the streets of LA.
Since I workout at Barry's Bootcamp and Brick CrossFit mostly during the week, I like to switch it up on the weekends and head to Soulcyle WeHo on Saturday's. I love MB's class. I'm not clubbing every weekend anymore, but I do love to dance, and her class satisfies that itch. Her girlfriend is a DJ, so the music is banging, and the energy is insane. With the lights, music and moves, it's like being at a club … 12 hours early.
At some point after recovering and changing after spinning, I try to meet up with my "goddaughter," Lily. She's almost 6 and she's the princess of Weho. We like to go to West Hollywood Park, where she is a master of the slides and sometimes lets me join her on the swings. I love being around kids. Anything that's stressing me out just disappears and I focus on having fun on their terms.
In the late afternoon, I go to check in on my Alpha Pop-Up store inside Satine on West Third Street. I like to see what's selling, who came in and just to catch-up with the people who work there. I also like to walk the block a little and say hi to my friends who own other stores on the street, or hit-up Joan's on Third for a chocolate-covered marshmallow, because at this point I need a little sugar rush.
After all that, sometimes it feels like I am still working Saturdays, so I like a mellow evening.  A dinner party at my friend Christian's who lives in the Norma Triangle always fits the bill. My parents, who now live in WeHo for part of the year, live nearby, so I try to peak in on them and say hi if they're home, which often means helping my dad with a computer or fax issue … or it could just mean an early Cosmo, as my dad makes a mean one!
Most likely, I doze off on my friend's couch, so I force myself to make the short drive back home. I'm usually passed out before I can even watch 15 minutes of some "Real Housewives" on my DVR and off to sleep for my equally packed Sunday.