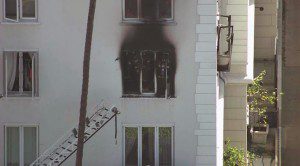 Fire ripped through the West Hollywood apartment of "Twilight" actress Ashley Greene today, leaving three people with slight injuries.
Firefighters sent to 1424 N. Crescent Heights Blvd. about 9:50 a.m. extinguished the flames in about 20 minutes, according to the Los Angeles
County Fire Department. Paramedics examined three people at the scene for unspecified injuries, but none was transported for hospital treatment, fire officials said.
The celebrity website TMZ.com reported the apartment was the home of the 26-year-old Greene, who also starred in the short-lived TV series "Pan Am."
The website reported from the scene that one of the actress' two dogs died in the blaze, but Greene and two other people in the apartment escaped safely.
Los Angeles county and city firefighters battled the flames, which is near the border of West Hollywood and Hollywood.
The cause of the fire was under investigation. A damage estimate was not immediately available.
ABC7 reported that celebrities such as Marilyn Monroe and Rock Hudson have lived in the historic building, known as the Granville Towers.