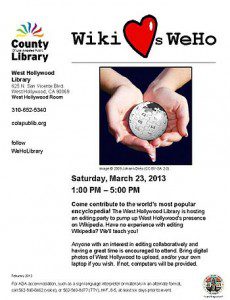 The West Hollywood Library hosts its second Wikipedia "editing party" on Saturday (March 23) in an aim to empower residents to improve one of the world's most popular websites, and promote the city.
During an "editing party," novices get together with experienced users to learn about fixing typos, adding citations, writing text for, and creating new articles in Wikipedia.
The event runs from 1 to 5 p.m. in the West Hollywood Room at the library.
"Most of us use Wikipedia everyday, yet we hardly ever think about how the articles there are constructed," said Oleg Kagan, a librarian at the West Hollywood Library. "Wikipedia editors are just regular people who use books, periodicals, and the web as their sources. When considered from that perspective, the connection between Wikipedia and libraries is a no-brainer."
During the first edit-a-thon, nine participants worked on a variety of articles including an article about Moses Sherman, who founded a city bearing his namesake in the area that eventually became West Hollywood, and the ONE Archives.
Anyone interested in editing collaboratively while learning about West Hollywood history is encouraged to attend. The library will have resources available but attendees should feel free to bring any relevant reference materials. Laptops will be provided for those who do not wish to bring their own.
For more information, contact Oleg Kagan at (310) 652-5340.