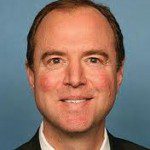 U.S. Representative Adam Schiff, whose district encompasses West Hollywood, will convene and moderate a town hall meeting to discuss the causes of gun violence on Wednesday (April 3) at the West Hollywood City Council Chambers, 625 N. San Vicente Blvd. south of Santa Monica. The discussion, which begins at 6:30 p.m. will cover federal legislation proposed to put in place universal background checks for all gun sales, improve mental health treatment and the quality of records in the background check system, and other proposals being debated in Congress.
Schiff will be joined by Los Angeles County Sheriff Lee Baca; former state Senator Jack Scott (whose son died in a shooting accident); Dr. Anand Pandya, associate professor of clinical psychiatry at USC Keck School of Medicine; Loren Lieb, Los Angeles resident and mother of a child injured in the Los Angeles Jewish Community Center mass shooting in 1999, and an invited representative from the National Rifle Association (NRA).
"Since Newtown, Congress has been debating steps that we can take to prevent future gun violence and tragedies from occurring," said Schiff. "It's my hope that we can take steps to crack down on straw purchasers, ban assault weapons with extended ammunition clips, repeal the gun industry's immunity from liability, and make background checks universal, among other steps. This town hall meeting will serve as an opportunity for members of the public to weigh in, and hear directly from experts and those that have experience with gun violence and mental health. Together, we can explore steps to prevent horrendous tragedies like Newtown."
A previously published analysis by WEHOville of state firearms records shows 2,581 handguns and long rifles have been registered in West Hollywood, a city with 24,599 households. Assault rifles and handguns, such as the Bushmaster AR-15 rifle used in the Newtown, Conn., elementary school massacre, are few and far between, accounting for only four of those registered.