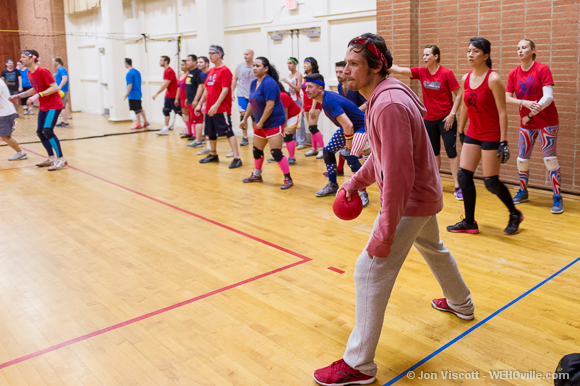 It was all about equality Tuesday night at the West Hollywood Recreation Center as the teams wore red (or fashionably accentuated their get-ups with the color) to show their support for gay marriage.
No. 1 D4D faced No. 3 Amazeballs in the night's biggest match. Amazeballs (4-3) has been on a comeback after losing some of its first few matches, but "Team USA" (as they're also called) couldn't pull out a win over league-dominating D4D, who shut them down 5-0. D4D moved to 7-0.  The next closest team in the league standings is Heathers at 5-1-1.
It was still no easy victory. D4D member Craig "Tiger" Smith said the Amazeballs women are especially tough to face.
"I like it," he said. "I like the emotion."
Meanwhile, No. 4 Boobie Warriors (3-0-4) found themselves in an even tougher match with Not In The Face. The teams tied 4-4. NITF (1-5-1) member Dan Zimmerman was happy with his team's performance.
"We didn't lose, so that's good!" he joked.
All final scores below:
Ballz Deep 6, It Gets Butter 2
Heathers 8, Power Bottoms 1
Boobie Warriors 4, Not In The Face 4
D4D 5, Amazeballs 0
Misfits 4, Better Late Than Pregnant 3
Tuesday Night Lights 8, Rise of the Unicorns 3