Prints are huge this spring, from pretty florals to classic stripes. But while designers went bold with this trend on runways, WeHo residents seem to prefer a toned-down approach on the street. For a case in point, these individuals paired their prints with neutral pieces and muted shades.
[hr_dotted]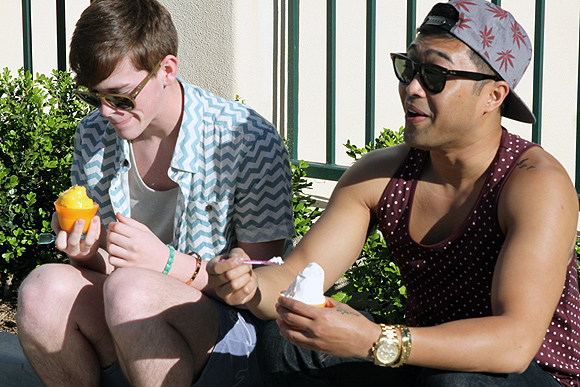 Randell Mayrina, Graphic Designer/Photographer, and Jason Kimmel, Student
Mayrina, 31, and his friend Kimmel, 18, were sitting on Sunset Boulevard, minding their own business when we saw their zigzags and spots. After chatting about their gelato (mango, and roasted almond and fig from Caffe Primo), we learned that Mayrina was playing host to Kimmel, a pre-dental biology student visiting from Indiana. "We've been to a few clubs … and just went to the flea market," Mayrina said, referring to the Melrose Trading Post. Kimmel's top is from Wasteland on Melrose ("I dressed him!" Mayrina said), and Mayrina's top is from Topman at the Grove.
[hr_dotted]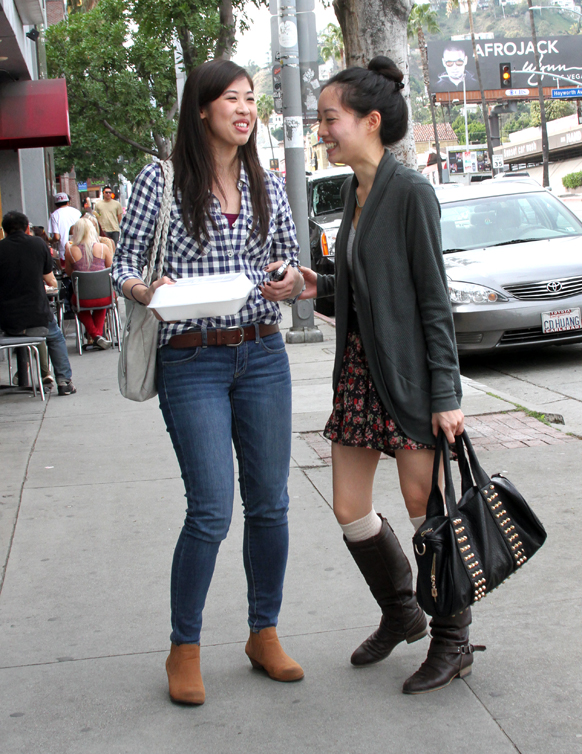 Stephanie Lee, 24, and Angela Lam, 26
Lee, left, and her friend Lam were in town from Thousand Oaks and San Gabriel Valley to eat at The Griddle Cafe. The popular breakfast spot and tourist destination on Sunset Boulevard is frequented by locals and celebrities such as Halle Berry, Alexander Skarsgard, Jessica Alba and Megan Fox. Here, Lee is wearing a gingham shirt from Express, while Lam is wearing a floral Forever 21 skirt.
[hr_dotted]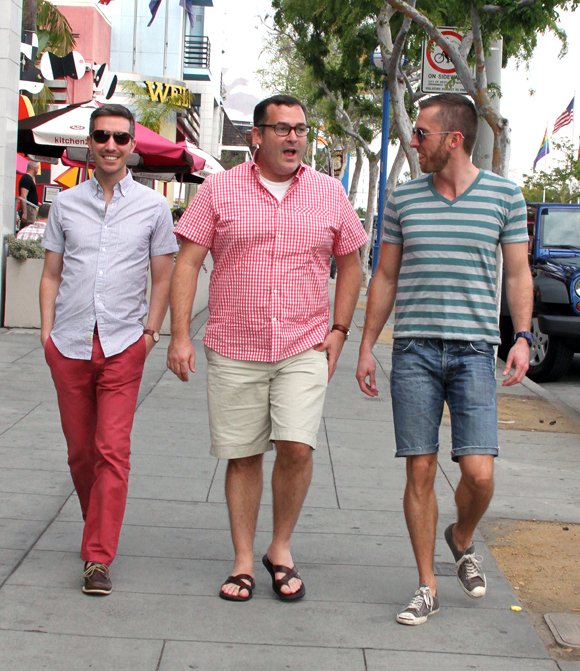 John Coelho, Advertising Account Executive; Matt O'Dorisio, Interior Decorator; and Robbie Sutton, Sign Language Interpreter
Who could miss this jovial trio strolling down Santa Monica Boulevard? West L.A. resident Coelho, 35, left, is wearing a seersucker shirt from J.Crew while WeHo residents O'Dorisio, 39, center, and Sutton, 35, sport a gingham shirt from Banana Republic and a striped T-shirt from Urban Outfitters.