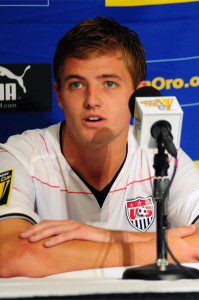 It's been about a month since former U.S. Major League Soccer player and Ranchos Palos Verdes native Robbie Rogers announced he was gay on his personal blog and chose to retire from the game. Now, he has started to do his first series of interviews, including a revealing feature in the New York Times published Friday (March 29).
Despite evolving U.S. sensibilities toward gay rights, a gay male athlete has yet to come out while also competing. Rogers would be the first if he chose to return to professional soccer.
In the piece, the former Columbus Crew standout describes the coming out "LetterOfLife" computer doc he wrote and agonized over before posting on his website in February.
Rogers told the New York Times:
 "I'm a Catholic, I'm a conservative, I'm a footballer and I'm gay," he said, trying to describe his fear. "Imagine living all that time with just a cramp in your stomach. I kept thinking, I hope I don't do something that makes people wonder, is Robbie gay?"
He added: "I was never close to coming out before. Never. I never went to any gay bars, never hooked up with a guy. It was so unhealthy and so bad that I felt this way. Two years ago, I would have thought that I would never come out during my entire life."  
Interestingly, Rogers also tells the NYT that if he does return to the game, it will most likely be in the U.S., because, despite having more progressive anti-gay legislation in Europe, the sports culture still lags in the locker room, he said.
In a lengthy interview piece published by the Guardian on Friday, Rogers says it's "impossible" to be gay in football (soccer).
"In football it's obviously impossible to come out – because no-one has done it. No one. It's crazy and sad. I thought: 'Why don't I step away and deal with this and my family and be happy?'"
For now, Rogers is focusing on his clothing line in LA and has secured a spot at the London Fashion School.
Nevertheless, he told the Guardian:
"I might ask [the coach] Bruce Arena if I can train with LA Galaxy – we'll see. I miss it and think about it a lot."