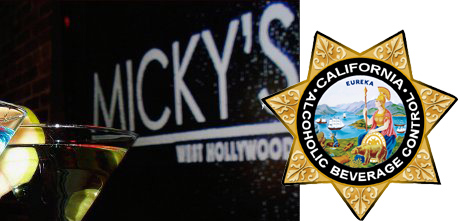 Micky's nightclub, the popular Boystown gay bar known for its go-go dancing events, is under state investigation for 14 counts of lewd conduct and two counts of giving away alcoholic beverages, according to the California Department of Alcoholic Beverage Control (ABC).
For now, ABC has only filed accusations against Micky's, which, after being offered a suspension as penalty instead chose to have a hearing to make its case. A date has not yet been set for that hearing.
Micky's management did not return calls and e-mails requesting comment, and ABC officials would not elaborate on details of the counts because they are still open cases. However, according to Boystown sources, the lewd conduct accusations have to do with contact between bar patrons and the go-go dancers, as well as go-go dancer "over-exposure."
"Our culture here is a little different than a lot of places," said Eleven Nightclub owner Richard Grossi. "I figure it's something all the clubs are little bit apprehensive about. Is something coming down the line for all of us?"
ABC received a complaint regarding Micky's in April 2012 and began investigating in July 2012, according to Kim Wachowski, a supervising investigator with ABC. Twice undercover investigators went to the nightclub before the accusations were officially filed against Micky's on Feb. 19 of this year.
This is not Micky's first run-in with ABC. The venue also received violations for lewd conduct and "giving away free goods" (alcoholic beverages) in 1997, and twice in 2011 for sales to minors. The nightclub also had a violation in 1993, but details were not available.
Wachowski said that the previous violations for lewd conduct and free goods would most likely not be counted against Micky's during this most recent hearing because "they happened so long ago."
WEHOville also asked for any violations filed against other popular Boystown nightclubs The Abbey, Revolver and Eleven. None of those bars had any violations.
After learning of Micky's ABC troubles, Eleven Nightclub posted ABC policies in its dressing room and reiterated them to its dancers, many of whom also perform at a number of the other Boystown nightclubs. Otherwise, Eleven hasn't been affected, Grossi said, largely because his bar has "always had a more conservative policy."
"Other clubs do a lot more touching and more exposing than we do here," he said.
Nevertheless, Grossi defended his Santa Monica Boulevard neighbor.
"They are one of the pioneers with dancing, and their crowd prefers to have a little more contact with dancers," Grossi said. "It's one of those things. WeHo has always been a city that is a little different with what the public accepts here, and our standards."
With an increasing acceptance of gay culture, Grossi says he's seen more people coming to the Boystown clubs who may not have grown up in the culture.
"There are a lot of things that do not adhere to the spirit of ABC regulations, but it's always been one of those things," said Grossi. "I think the city has consulted with ABC and let them know that WeHo is different.
West Hollywood Code Compliance Manager Jeffery Aubel said the city was aware of the allegations, but would not further elaborate. "The issue is between the licensee and the licensing agency," he said.
"I hate to see that Micky's suffers any kind of penalty for something that is not against our community standards," said Grossi.