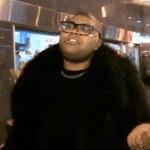 Dodgers fans on Sunset Boulevard this past weekend no doubt would have pushed their way forward for autographs if they'd realized the 20-year-old guy walking hand-in-hand with his boyfriend was Magic Johnson's gay son.
TMZ's report on the Sunset Strip stroll includes photos that show Earvin Johnson III, known as EJ, wearing a bright necklace, carrying a purse, and with a fur stole draped over his shoulders (oops! looks like someone didn't tell him about WeHo's fur ban!).
His father, the Lakers legend, told TMZ "Cookie and I love EJ and support him in every way … We're very proud of him."
EJ said he was "hoping and praying" for the Dodgers, whose franchise was purchased by Magic Johnson and business partners.