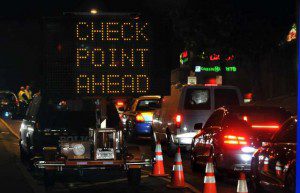 Twenty-three motorists were arrested and 12 vehicles impounded by deputies during a weekend DUI/drivers license checkpoint in West Hollywood, a sheriff's detective reported today.
The checkpoint was conducted Friday night at the intersection of San Vicente and Beverly boulevards, according to sheriff's Detective Daniel Dail. A total of 1,061 vehicles passed through the DUI stop and 825 motorists were checked by deputies, he said.
Four motorists were arrested on suspicion of driving under the influence of alcohol, one on suspicion of driving under the influence of alcohol and drugs, one person for illegal possession of narcotics, one person for knowingly allowing an unlicensed person to drive a vehicle, one for driving a vehicle not equipped with an ignition interlock device as ordered by the court, two people for public intoxication, eight people for driving without a license and five people for driving on a suspended or revoked license, Dail reported.
Deputies also impounded seven vehicles for one day and five other vehicles, for 30 days, according to Dail.
Funding for the operation was provided by a grant from the California Office of Traffic Safety, Dail said.