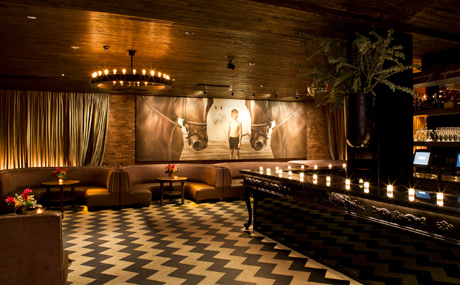 A nightclub called 1 Oak is set to open in the former Key Club at 9039 Sunset Blvd. this fall. The space that once housed the legendary Gazzarri's has played host to many prominent musicians, including The Doors, Van Halen, Tom Petty, Tina Turner, Guns N' Roses and Bon Jovi.
The Los Angeles outpost of 1 Oak will be the fourth location of the club; the other three are in New York, Las Vegas and Mexico City.
The Butter Group, led by restaurateurs and nightlife business impresarios Richie Akiva and Scott Sartiano, along with their business partner Ronnie Madra, have partnered with Bartelier Group's Darren Dzienciol (partner in the former WeHo nightclub Trousdale) to introduce the 1 Oak brand to the Los Angeles market.
"Los Angeles has been a city we have wanted to make a mark in for some time now, and we look forward to bringing the edgy New York City entertainment style and energy that 1 Oak has become notorious for to the Sunset Strip," Akiva said.
According to the press release, design elements will include "'Da Vinci Code' walls, Brazilian wood counters and a Gatsby-esque atmosphere."
"We are thrilled to be expanding 1 Oak into the Los Angeles market. We've been approached with many offers to bring our hospitality concepts to LA, but we've been waiting for the right project to come along … and this was it," said Sartiano.
Situated on the cusp of New York City's Chelsea neighborhood at the crossroads to the trendy Meatpacking District, 1 Oak New York opened in 2008. In 2011, 1 Oak Las Vegas was the brand's first expansion followed by an opening in Mexico City. Manhattan's flagship location and its predecessors have regularly played host to celebrities and athletes, such as Beyonce, Jay-Z, Madonna, Katy Perry, Adam Levine, Fergie, Jessica Alba and Derek Jeter, among others.