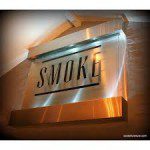 Smoke, West Hollywood's newest steakhouse, has shuttered less than five months after November's ribbon cutting. The upscale restaurant, which took over the former Artichoke Hearts space last year at 9010 Melrose, had been struggling to find its footing in the neighborhood. Smoke finally called it quits at the end of March, this according to Sara Krish, Director of Marketing and Community Relations for the restaurant's owners, Broseph Restaurant Group (BRG).
WEHOville restaurant critic foreshadowed this turn of events in the January 18 installment of The Digest with James Tipper ("Smoke Steakhouse Takes On The Big Guys") when he wrote: "Smoke has an uphill battle, but the food is good. If it wants to be a steakhouse, the younger crowd, having a limited point of reference, may not care if the traditional format and menu has been sacrificed to the gods of hip. However, I would bet that the silver-haired set – the bread n' butter of most steakhouses – will not forgive Smoke's transgressions so easily."
Krish declined to comment further on Smoke's closing, but said that BRG "will focus on growing their existing locations." BRG also owns Fatty's Public House on La Cienega, Brick+Mortar in Santa Monica and Bar Esquina in Cabo San Lucas, Mexico.