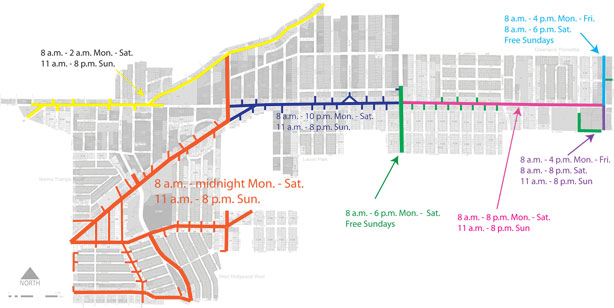 The West Hollywood City Council voted Monday night to extend parking meter hours throughout the city, despite objections to the plan from employees of local businesses. The council also set aside $1 million, the total amount of money to be generated from those extended hours, to hire additional sheriff's deputies and private security officers to patrol the streets and provide security for employees of late-night businesses who will have to park farther from work because of the extension.
The proposal, meant to generate more business for shops, bars and restaurants that stay open late by encouraging parking turnover, was approved on a 4-1 vote with Councilmember John D'Amico voting against it. The major point of contention was the argument by employees of those late-night local businesses who say they depend on the free street parking. They argue the alternatives are inconvenient, if not unsafe.
City Council members supporting the extension believe people intending to park several hours will use parking decks and private lots, leaving street parking to those intending to make only a short stop.
"This is a way to manage our scarce parking resources," said Councilmember John Heilman. Mayor Jeffrey Prang said the plan would create "equity for parkers" rather than reward the lucky few who find street parking after the metered parking is not enforced. The extension also will reduce traffic in residential areas, he said, because cars won't circle the block looking for free meters.
Starting in July, those parking on Santa Monica Boulevard from Doheny Drive to La Cienega Boulevard will be required to pay the meter until midnight. From La Cienega to Fairfax Avenue, meters fees will be charged until 10 p.m. and from Fairfax Avenue to La Brea until 8 p.m. (there are some exceptions, see accompanying map). The cost per hour at WeHo meters is $1.50.
In addition, parking fees will be charged at meters across the city on Sundays from 11 a.m. to 8 p.m. Parking at metered spaces on Sundays now is free.
Parking fees will continue to be charged until 2 a.m. at meters on Sunset Boulevard, a rule that went into effect in 2001.
City Public Works Director Oscar Delgado said the city is negotiating with Pavilions grocery store to use its rooftop parking deck for employees of late-night businesses, many of whom park at metered spaces just before enforcement ends at 6 p.m. and stay until their shifts end. He said the city also hoped to negotiate a deal to use the Pacific Design Center's parking decks. The city will provide $30 evening parking passes for late-night employees to use at designated meters on side streets that aren't as heavily trafficked.
Some late-night employees said those alternatives won't make up for the loss of free parking next to their work places. Sam Borelli, a local resident and former candidate for the council, argued that employees at venues such as Micky's and Gym Sports Bar, both bars in Boystown, would have a longer early morning walk to their cars, which could be unsafe.
Mary Ann McClintock, general manager of Micky's, questioned the need for vehicle turnover at metered spaces. She said bar owners want customers to spend the entire evening in Boystown. Extending meter hours would, she said, encourage them to leave quickly.
McClintock also questioned the need for additional security, saying the West Hollywood sheriff's station is "right there for us," across the street from the Boystown entertainment district.
Half of the estimated $1 million additional parking meter revenue will go to the sheriff's department while the rest goes to private security stationed around the city.
Resident Larry Block, owner of the Block Party, a clothing store in Boystown, bemoaned the loss of free parking on Sundays.
Genevieve Morrill, president of the West Hollywood Chamber of Commerce, said although that although the chamber has some concerns, it supports the extension because it creates turnover on meters.
"It's not perfect, but it's a start," said Morrill.
Councilmember John D'Amico cast the lone dissenting vote. He said the hourly rate in the city-owned parking decks needs to match the hourly rate at the meters, otherwise people would still end up driving around looking for meters first.