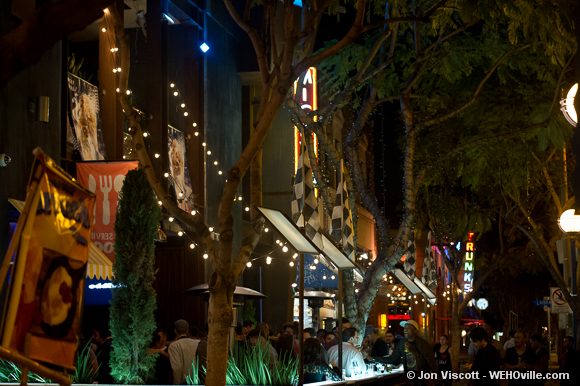 The West Hollywood City Council has approved a six-month pilot program for a free "entertainment shuttle" to travel along Santa Monica Boulevard .
Set to start in July, the shuttle, which the council approved at its Monday meeting, will make 15-minute runs from Doheny Drive to Fairfax Avenue with a detour to the West Hollywood Public Library parking deck on San Vicente Boulevard. It will operate on Fridays and Saturdays from 8 p.m. to 3 a.m. The city will rent two buses for $62,000, and spend $25,000 to market the shuttle.
Councilmember John Duran, who first proposed the idea a year ago, said residents can leave their cars at home but still enjoy the nightlife in the Boystown area on the west end of Santa Monica Boulevard or in restaurants and clubs on Santa Monica closer to Fairfax. Similarly, visitors can park their cars once and still get around town.
The initial idea was to have the trolley go on a loop that would include the Sunset Strip, but city staff members said that would reduce the frequency of trolley stops. If the pilot project is successful, the Sunset Strip area could be added either as a part of a loop or with a separate trolley.
The city will create a task force of residents it deems most likely to use the shuttle to help guide its launch.
While the council unanimously approved the shuttle, council members did debate the project's target audience. Both council members Abbe Land and John Heilman worried that only residents would use the shuttles and that the concept would be lost on tourists. Mayor Jeffrey Prang said he wished the city had hired an outside consulting firm to research the need for ridership. When Land asked city staffers how many weekly and monthly riders would be needed to consider the project a success, they couldn't provide an answer.
Councilmember John D'Amico said he hoped the shuttle would be launched in time for Gay Pride festivities in June.
Duran said the key to the shuttle's success was ensuring the public perceived it as a fun way to get around. "If people think they're taking a bus, they won't take it," he said. "If they think it's public transportation, they won't take it."
Resident Sam Borelli asked why the trolley was turning around at Fairfax Avenue rather than going further into the city's Eastside. City staff members said if the pilot project is successful, the city could consider adding more Eastside stops.