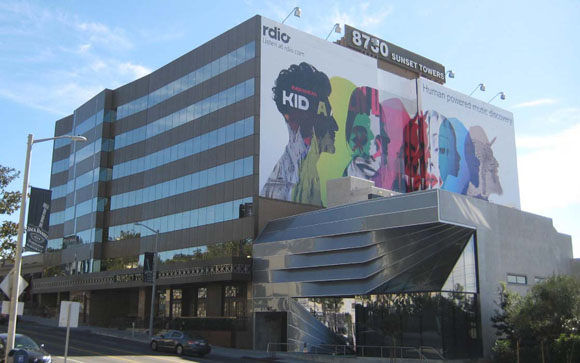 The West Hollywood Planning Commission is set to approve changes to a massive "tall wall" sign at 8730 Sunset Blvd. despite a city staff report recommending the application from Ace Outdoor Advertising be denied.
The Planning Commission told city staff to return with a motion to approve the project at its Thursday night meeting.
The "tall wall" in question is a prominent one along the Strip at nearly 11,000 square feet. However, since 2008 a lower portion of the wall has been blocked following the remodel of a neighboring building, which saw a height increase.
Ace, who was represented by Aaron Green of the Steve Afriat Consulting Group at the meeting, hopes to remove 600 square feet from the bottom of the wall and stick it up top on a "rooftop mechanical cabinet." That cabinet currently contains a sign that identifies the building as "8730 Sunset Towers."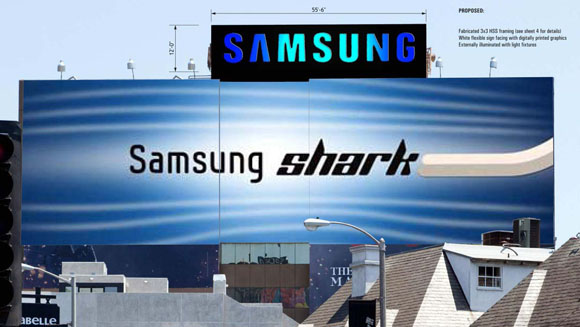 In a staff report presented at Thursday's meeting, Associate Planner Antonio Castillo said the proposal should be denied because it is "a major change to the building's identity and impacts the building's unique presence on this section of Sunset Boulevard."
"The existing rooftop identification sign has been a vital feature of the building since its construction in the 1960s," said Castillo. "Over the years, the sign copy has changed but has always represented and/or identified the building by its name or its primary tenant. Additionally, the identification/address sign enable drivers and passerby heading east to locate themselves along the Boulevard."
Castillo also believes the proposed addition violates the city's code because it is located 30 inches away from the wall. City code requires tall wall signs adhere directly to structures.
Despite Castillo's report, Planning Commissioner Marc Yeber was the only commissioner to oppose Ace's plans.
"Our code simply says, if you read it carefully, that they have to be on the same plane or wall as the tall wall," Yeber said. "This extension is substantially set back from all that. Essentially it's a separate sign."
"This is a minor modification," countered West Hollywood Chamber of Commerce President Genevieve Morrill, who attended Thursday's meeting to give the support of the chamber. She was joined by Todd Steadman of the Sunset Strip Business Association in support of the "tall wall" extension. "I don't see any issue. I was quite surprised (by the report). There is no impact to the community. No environmental impact. And it's aesthetically pleasing."
The Planning Commission will vote on the updated recommendation next month.
According to a report from West Hollywood Patch, Victor De La Cruz, who argued against the proposal on behalf of competing sign company Regency Outdoor Advertisement, said Ace was essentially trying to create a new "billboard."
"This is a thinly disguised attempt to get a new billboard that is not allowed by the city code, sought through a conditional use permit modification for an existing tall wall sign," he told Patch.
According to Patch, Ace representative Green said the company would be willing to sign a "covenant preventing them from splitting the tall wall between multiple advertisers." Ace management did not return requests for comment.
So-called "tall wall" signs have sparked expensive, devious and heated political battles in West Hollywood in the past. For example, in 2011 a proposition dubbed Measure A was on the ballot, with its primary support coming from the awkwardly named "West Hollywood Residents to Tax Billboard Companies Yes on Measure A."
That committee, in fact, was created by Michael McNeilly of SkyTag Inc. of Beverly Hills, a vendor of "tall wall" signs who claims his are so large they can be seen from outer space. Measure A, if passed, would have allowed "tall wall" signs on Beverly and Santa Monica Boulevards. It also would have required the city to levy a tax on conventional billboards, conceivably giving "tall wall" vendors a competitive advantage in pricing.
McNeilly was involved in a seven-year battle with the city over his installation of a "tall wall" sign on the former ICM building at 8899 Beverly Blvd. that a court eventually ruled was illegal.
The measure's primary opponent was another deviously misnamed campaign committee called "Concerned Neighbors Against Illegal Billboards." That committee, managed by Steve Afriat, a lobbyist who has been involved in the re-election campaigns of all WeHo council members but John D'Amico, described itself as a "coalition of neighborhood activists, residents, businesses, outdoor advertisers, homeowners associations and seniors opposed to the permitting and expansion of illegal billboards."
In fact, "Concerned Neighbors," which raised $180,000 in its successful fight to kill the Measure A tax proposal, was funded largely by national billboard companies such as CBS Outdoor of Fairfield, N.J., Clear Channel Outdoor of San Antonio, TX, the Lamar Companies of Baton Rouge, LA and Van Wagner Communications of New York City.
Billboard companies also make major donations in West Hollywood City Council elections, hoping to curry favor with council members.
For example, Ace Outdoor, based in Utah, and its managers and their family members donated $1,500 directly to John Duran's 2013 re-election campaign. Ace gave $10,000 to the Friends of West Hollywood Committee to Elect John Duran. Ace also contributed $500 to Mayor Jeffrey Prang's campaign.
And in 2011, the company donated $500 each, the maximum allowed to a particular candidate, to John Heilman, Abbe Land, Lindsay Horvath and John D'Amico, who defeated Horvath.
Regeny Outdoor Advertising also is a big player when it comes to funding council members' campaigns. Regency employees and their spouses and company consultants donated $3,000 to John D'Amico's 2011 campaign.
Lamar, through a separate campaign committee, donated $500 to Land, $500 to Heilman and $15,000 to Afriat's "Concerned Neighbors Against Illegal Billboards" committee.