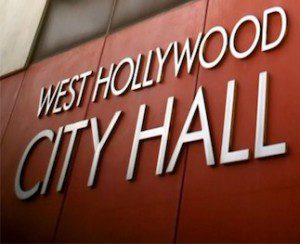 West Hollywood's Public Safety Commission will hold an awards presentation honoring community members who have helped the city enhance public safety at its next meeting on Monday, April 8.
The meeting will be held at 6:30 p.m. at the West Hollywood Park Public Meeting Room/Council Chambers, 625 N. San Vicente Blvd. at Santa Monica.
The event will be broadcast live on WehoTV on Time Warner Cable's Channel 10.
Free validated parking is available at the West Hollywood Park Parking Garage.
For more information, please call Laura Manukian at (323) 848-6831 or lmanukian@weho.org.
The 2013 Public Safety Award Recipients are as follows:
Outstanding Contribution to Public Safety
Therese Olaes, crime analyst at the West Hollywood Sheriff's Station
Deputy of the Year Award
Lloyd McCullough, deputy at the West Hollywood Sheriff's Station
Fire Fighter of the Year
Lothar Zindric, fire fighter specialist for West Hollywood/Los Angeles County Fire Department