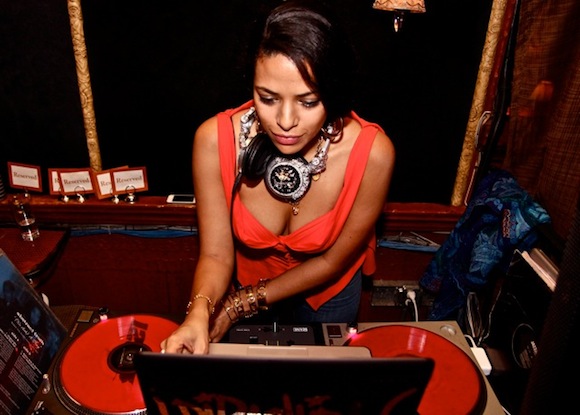 [dropcap]S[/dropcap]he's opened for groups like De La Soul, The Roots, Damian Marley and even tours with "The Artist" himself, Prince. Most recently, President Obama's team selected her as one of three official DJs for his election campaign.
DJ Rashida, who landed her first big residency at WeHo's House of Blues and spins most Sunday nights at the Chateau Marmont, is among the elite in a male-dominated DJ world.
Recently, she was named 2012's "Best DJ" by LA Weekly and dubbed "the best-kept music secret in town."
"I was really pleasantly surprised," she said. "That was a huge compliment. Wow, just a super honor."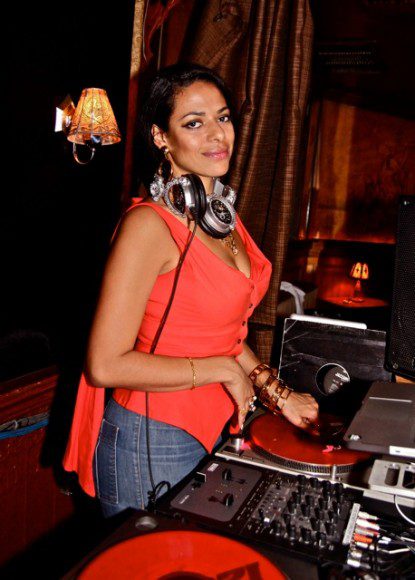 Rashida Robinson, 32, is hard to miss. A sultry, offbeat diva, she resembles actresses Rosario Dawson and Josephine Baker. She is cordial and classic. Her face is marked by high-cheek bones, offset by cool dark eyes that rest above an easy, confident smile, all of it making for a powerful allure.
Also a fashionista, she's a fan of funky pattern prints and marching band hats. However, on one particular evening DJing at Chateau Marmont, she is dressed a little simpler. She wears a caped, low-cut red button down top with blue jeans, complimented by gold bangles, hoop earrings and bejeweled headphones that shimmer in the soft lighting.
Spinning beats Sunday nights as resident DJ inside Chateau Marmont's elegant Bar Marmont, Rashida doesn't play "Top 40" dance drivel at "Love is the Message," the title of her Chateau parties.
"It's very much in the musical vein of 'Paradise Garage,' what Larry Levan (the nightclub's DJ) was doing in New York, that kind of vibe," she said, referencing what is considered the prototype of the modern dance club. "House, disco, sometimes I get in a mood and I'll throw some soul, hip hop, dance hall in there — the basis always goes back to deep house, Afrohouse, Afrobeat."
Her sound is achieved by merging highs and lows and heavy with soft. The basslines move your feet while the vocals work on your mind. She seamlessly mixes tracks by A Tribe Called Quest, Azealia Banks and Prince; after all, she's been his touring DJ since 2004. Mr. Purple Rain is not only a musician, he is also a promoter of talent who has fostered the careers of Sheila E., The Time, Vanity 6 and Carmen Electra.
Tucked away on the hillside at the eastern-most section of the Sunset Strip, just outside WeHo boundaries, the iconic Chateau is famed for its exclusivity and is a favorite among celebrities who often go there to unwind. The entrance off Sunset Boulevard is humble, and the doorman is polite. Be on your best behavior and dressed to the nines and you might gain access.
Past the smoking patio, through the main dining room and down a few stairs lies a mixologist's wet dream: Bar Marmont, well stocked with elegant potions and remedies. The decor is bizarre, to say the least, reminiscent of a Chinese opium den. Glance at the ceiling and you'll notice it is lined with swarms of inanimate black paper butterflies.
Upon entering the lounge, you may even rub elbows with A-listers while imbibing handmade cocktails, such as the Jerry Thomas Manhattan, a delectable union of rye whiskey, Grand Marnier, bitters and sweet vermouth.
Cocktail in hand, your eyes are drawn by your ears over to the corner, where DJ Rashida, with sparkly headphones tucked around her head, spins the turntables.
Rashida's DJ path started as a collaboration of the music gods.
"I grew up in two very musical households," she said. "My mom was a Spanish radio DJ and also a singer, and my father was an avid record collector. I was named after a record by Jon Lucien called 'Rashida.'"
Born in Los Angeles, Rashida moved to Atlanta with her family when she was 13. There she was exposed to a wide variety of musical influences.
"Atlanta was a bit of a culture shock for me, you know, the 'Deep South,'" Rashida said. "My family is all from the West Coast. It was a trip, but it actually helped shape who I am. Honestly, I wouldn't be a DJ if I hadn't come of age there."
Atlanta has produced many modern music legends, such as Outkast, Kanye West, Cee Lo Green, Jermaine Dupree, T.I., TLC and Usher. In them, Rashida found sonic inspiration.
"I had been sneaking out and going to clubs since I was in high school," she said. "Essentially, Atlanta's music scene was very eclectic in the 90s when I was comin' up. So, I had access to everything from underground dance hall clubs to ska clubs, commercial hip hop and underground hip hop, deep house nights, raves — I was immersed in all of that."
When Rashida began school at the Atlanta College of Art in 1998, she was attracted to photography and mixed media design. During her first year at the school, she bought her first set of turntables.
"The first few years, I just played in my house and I was happy as a clam," she said. "I worked in a record store, so everybody knew that I collected records. My friends just started forcing me to play their parties and that's how it started."
After graduation in 2002, Rashida was ready to leave Atlanta. After a brief stay in Europe, she came back to the states and needed to start paying back her student loans. Broke, she had an important decision to make: NYC or L.A.
"(NYC) will take you out if you're down and out," she said. "In L.A., I have family here, the sun is out, you can be broke and still go to the beach and kick it. Living by the water, it affects me."
So it was off to L.A.
"I ended up coming to L.A. with turntables, two travel crates of records and one little bag of clothes," Rashida said. "My first night in L.A. I spun a party."
Soon after, she had a residency at the Temple Bar in Santa Monica, then at the House of Blues on the Sunset Strip. In 2004, she began working with Prince.
"I played in the Foundation Room (House of Blues) and he would have private parties in the room next door to it," Rashida said. "His band members would come out and listen to me. After that I got a call and he had requested me to play one of his parties. I played it. He and I hit it off right away and it's been on since then. … You never know who's listening, that's what's so cool about it."
Prince has always been adventurous with his style and a trendsetter since 1978's "For You" hit the charts. He is a modern day Jimi Hendrix with a pencil thin moustache, donning purple paisley patterns and even, on occasion, ass-less pants.
Rashida's unique wardrobe has induced envy among the fashion world as well.  Her captivating photo shoots are as fun as her tunes. She is unafraid to wear loud colors and sport bleached blond hair. As a fashionista, she has been featured in magazines like Vogue Italia, People, Us Weekly and Essence.
For Prince, she was a perfect fit.
"It's mixed media. I wear what I like really," she said. "Whatever speaks to me at the moment. My style is definitely influenced by my travels and things I pick up along the way."
Beyond her fashion style, Rashida is also unique as one of the few DJs still spinning vinyl records.
"I am originally a vinyl DJ, but I only play a vinyl set now in L.A.," she said. "It's not economical for me to fly around with records anymore."
If she already looks familiar, that's because she's been spinning in your living room since 2008 as DJ for the first three seasons of Randy Jackson's "America's Best Dance Crew."
Recently, she's toured with Kelis, Cee-Lo Green and Prince, who always keeps her in his arsenal.
But while she's in hometown L.A., she provides Bar Marmont with her sensual beats.
"There's not only an art to it but it's something that only comes with experience and time, which is an energy exchange with your audience, like a frequency exchange thing happening," Rashida said. "My favorite DJs, they are so in tune with that. They know how to take you high, they know how to cool you down, bring you back up, take you here, take you there, tell a story."