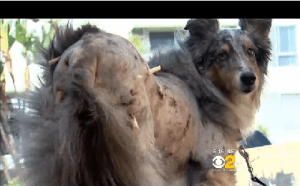 A West Hollywood man and his service dog were attacked by two pit bulls who were not on leashes Saturday.
The attack occurred on Fuller Street, between Plummer Park and the Poinsettia Recreation Center, while the victim, Billy Lam, and his dog Crouton, were out for a walk.
Lam suffered minor injuries while Crouton was left with four major puncture wounds.
The pit bull's owner asked the victim "Is your dog okay?" and then left the scene, according to Lam.
According to CBS, Lam's service dog Crouton gives comfort and help to Lam who suffers from anxiety attacks. If Lam were to pass out, Crouton is trained to alert others.
Los Angeles County has always had laws prohibiting dogs from being let off their leashes in public and recently there has been a crackdown by West Hollywood Mayor Jeffrey Prang to better enforce the law.
In a 2012 statement, Prang said, "The city has asked the Department of Animal Care and Control to strictly enforce the city's ordinances requiring dogs to be kept on a leash in public, including in public parks."
An owner who does not have his dog on a leash can receive a $250 ticket for the first offense, $450 for a second and $850 for a third.