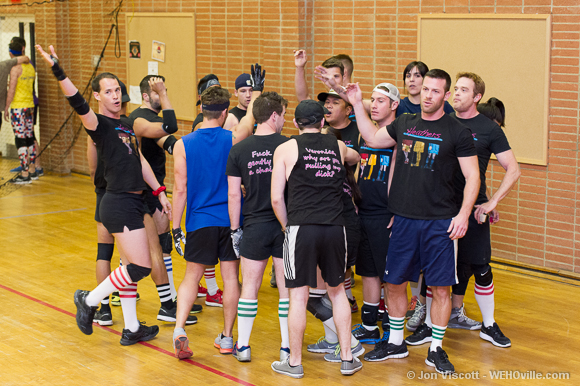 The Tuesday night teams had one last chance to pull out a win before the playoffs next week, which will determine who goes into the finals and ultimately wins the coveted Golden Cock Trophy.
Dodgeball For Dummies (D4D) has dominated the league with an undefeated run, leaving Heathers and Tuesday Night Lights battling it out for the No. 2 spot.
Heathers started off strong, jumping out to a 2-0 lead, but TNL tied it up before halftime. In the second half, Heathers recovered to take a 6-2 win and the second position in the playoffs.
The playoffs start next week, and all teams will participate.
The final regular season standings are:
1. D4D 9-0-0
2. Heathers 7-1-1
3. Tuesday Night Lights 6-3-0
4. Ballz Deep 6-2-1
5. Amazeballs 6-3-0
6. Boobie Warriors 4-1-4
7. Rise of the Unicorns 3-6-0
8. Better Late Than Pregnant 3-6-0
9. It Gets Butter 1-5-3
10. Misfits 1-6-2
11. Not in the Face 1-7-1
12. Power Bottoms 0-7-2
All scores for week 9 are below:
Ballz Deep 8, Not In The Face 2
Misfits 3, It Gets Butter 3
D4D 8, Better Late Than Pregnant 1
Boobie Warriors 6, Rise of the Unicorns 4
Heathers 6, Tuesday Night Lights 2
Amazeballs 5, Power Bottoms 2
See below for freelance photographer Jon Viscott's photos: