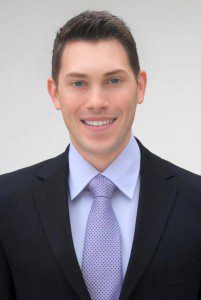 Brett Shaad, a 33-year-old West Hollywood realtor, died from bacterial meningitis after being removed from life support Saturday evening, according to his brother Brian Shaad.
"Tonight our family made the incredibly difficult decision to remove my brother Brett from life support. He died peacefully surrounded by our family and friends," said Shaad in a news release.
Brett Shaad, who was being treated at Cedars-Sinai hospital in Beverly Hills, was removed from life support Saturday night at 6:24 p.m. and died at 6:42 p.m.
"Brett was an extraordinary person. He was a loving son, brother and grandson, an attorney with a deep passion for social justice, and a dear friend to so many people. We cannot believe that this wonderful person is gone. We love you Brett," said Brian Shaad.
During a mid-afternoon press conference Friday, West Hollywood Councilmember John Duran identified Shaad as the man gravely ill with bacterial meningitis and later that night tweeted that Shaad had been taken off life support.
But a spokesperson for the family, Elizabeth Ashford, alluded to the misinformation that Duran spread Friday in the news release from Brett Shaad's brother.
"The Shaad family asks for privacy at this painful time, which has been made more devastating by irresponsible and inaccurate reports on the circumstances of Brett's death. The family wants, and will pursue, answers for how and why this happened," Ashford said.
A number of media outlets, including WEHOville, reported that Shaad had died late Friday based on a statement Duran made on Twitter, which said "sad to report our friend and resident with meningitis has passed."
In a phone interview with the LA Times, Duran said that Shaad had died at 4:45 p.m. Friday after he was taken off life support.
However, a number of media outlets, including the LA Times and Associated Press, later ran updated stories quoting Ashford as saying Shaad was declared brain dead but remained on life support Friday afternoon.
Quoting a coroner's investigator Saturday, the LA Times reported that Shaad was indeed pronounced dead at 3:40 p.m. Friday.
Duran called the Friday press conference to warn the city's gay community about the deadly strain of bacterial infection, which has similarities to the one circulating among gay men in New York City that has resulted in seven deaths since 2010.
At the press conference, Duran said Shaad had attended the White Party during Easter weekend in Palm Springs. The White Party is an annual event that attracts thousands of gay men from California and across the country. Duran advised those who had attended the White Party to see a doctor if they had any symptoms of the disease.
Jeffrey Sanker, promoter of the White Party, said "From what we known to date, the origin of the outbreak is inconclusive."
Information about the disease on the World Health Organization website suggests it is unlikely that Shadd was infected at the White Party, which took place March 29-31. WHO says the average incubation period for meningococcal meningitis is two to four days, although it can range between two and 10 days. The Meningitis Vaccine Project reports that 10 percent of those treated die, usually within 24 to 48 hours of infection. Shaad died 12 days after the White Party ended.