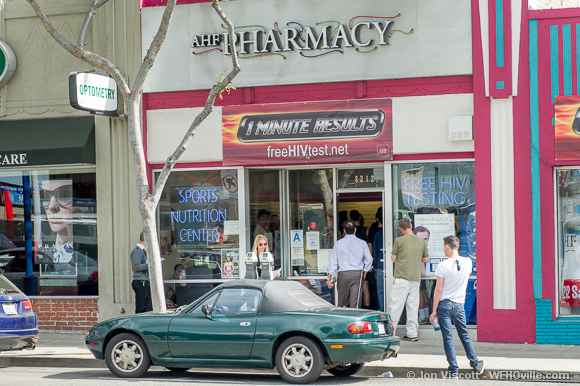 By the end of the day Monday, the AIDS Health Foundation (AHF) expects to have administered more than 200 free vaccines for meningitis at its West Hollywood pharmacy and just as many at each of its other two locations in Los Angeles, according to a spokesperson for the group.
In light of the death of West Hollywood resident Brett Shaad, the foundation has promised to provide up to 10,000 free vaccines at its three locations: 8212 Santa Monica Blvd. at Havenhurst in West Hollywood, 6210 W. Sunset Blvd. in Los Angeles and 1300 N. Vermont Ave. Ste. 407 in Los Angeles.
According to AHF Communications Director Ged Kenslea, the foundation has had to rush to provide vaccinations in the wake of West Hollywood Councilmember John Duran's cautionary statements about the infection's potential harm. The foundation decided to offer the vaccines Saturday, and the first shipments came into the West Hollywood office at 10:15 a.m. this morning, 15 minutes after the pharmacy opened its doors to a throng of concerned residents.
Kenslea said he was surprised by the amount of media coverage in the morning at the WeHo location. Five to six broadcast stations reported from the scene.
As of 5:40 p.m., just 10 minutes after opening, the AHF Hollywood Men's Well Center had 89 people in line waiting for the vaccine, according to Kenslea.
On Tuesday, the foundation expects another 900 vaccines to arrive for distribution at its three centers. Kenslea said the foundation is not prioritizing who gets the vaccine.
The vaccines usually cost $105 per dose. If demand continues to grow, the foundation hopes to receive assistance from the Los Angeles County Health Department or from the Centers for Disease Control and Prevention.
The vaccine will not cure a meningitis infection but is likely to prevent one from becoming infected.