Dear Hank:
The story is that 40 percent of West Hollywood's population is gay men. I'm guessing that's a big percentage. How does it compare with places like Long Beach and San Francisco, or Wilton Manors, that little gay ghetto in the middle of Fort Lauderdale? And while you're at it, what percentage of the U.S. population is gay?
Nancy the Number Cruncher
[hr_dotted]
Dear Nancy:
Comparing the gay populations in various cities isn't easy. That's because, until recently, there have been no uniform surveys of LGBT people in the United States. The U.S. Census only counts people in same-sex domestic partnerships. But, those of us who are single (I have mentioned that I'm single, haven't I? My phone number is elsewhere on this site 🙂 ) make up a majority of gay population according to most counts. So we get left out.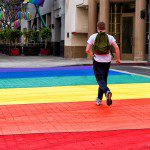 If there's an expert on LGBT populations, it's Gary Gates of the Williams Institute, a think tank at UCLA Law School dedicated to researching sexual orientation and public policy. His State of the States study released in February by Gates and Frank Newport, editor in chief of the Gallup polling organization, is the first statistically significant national study of the LGBT population. It puts lesbians/gays/bisexual/transgenders at 3.5 percent of the nation's total population. That contradicts the widely held belief that LGBT people constitute 10 percent of the U.S. population. The 10 percent figure is based on an estimate by Alfred Kinsey, the famed sex researcher, that most researchers today have rejected.
Among the states and the District of Columbia, California ranks 10th, with 4 percent of residents identifying as LGBT, according to State of the States. Washington, D.C., ranks No. 1, with 10 percent of the population identifying as LGBT in the Gallup survey. Hawaii ranks No. 2, with 5.1 percent. The other seven states in the top 10 are Vermont (4.9 percent), Oregon (4.9 percent), Maine (4.8 percent), Rhode Island (4.5 percent), Massachusetts (4.4 percent), South Dakota (4.4 percent) and Nevada (4.2 percent). At the bottom is North Dakota, with 1.7 percent of the population identifying as LGBT (we reckon the North Dakotans move south for better weather).
That's a long-winded way of getting to your question, which there are two ways of answering. One is to consider what percentage of the population is gay. In other words, when you're walking down the street and encounter a guy, what are the odds that he's not batting for your team Nancy? The other is to consider the actual number of gay men in a particular locale.
Of course large cities such as New York and San Francisco have WeHo beat in terms of the total gay population. But if the goal is bumping into a gay man without even having to activate one's gaydar, WeHo is the winner. In our burg of 1.9 square miles with roughly 35,000 residents, 40 percent, or 14,000, are gay men according to studies commissioned by the city. Wilton Manors, the gay ghetto nestled in the middle of Fort Lauderdale that covers 1.8 square miles, also claims 40 percent of its population is gay. With only 13,000 residents, that amounts to 5,200 gay guys. Still not a bad opportunity, if you're gay, to meet the man of your dreams. Provincetown, the Northeast's leading gay community, is even smaller, with roughly 3,000 year-round residents, only 8 percent of whom identify as gay. But then its population swells during the summer tourist season to as many as 60,000 people, the vast majority of whom are gay by most estimates. Long Beach, according to different statistics (warning: comparing stats from different sources isn't very accurate), has about 6,600 gay men in a total population of 472,000, with most of them clustered along Broadway between Redondo and Alamitos avenues.
So if you're a single gal looking for love Nancy, I'd suggest you move. But if you want to make sure there's always a top-notch hair stylist or florist at your beck and call, you're in the right place.
Gaily yours,
Hank