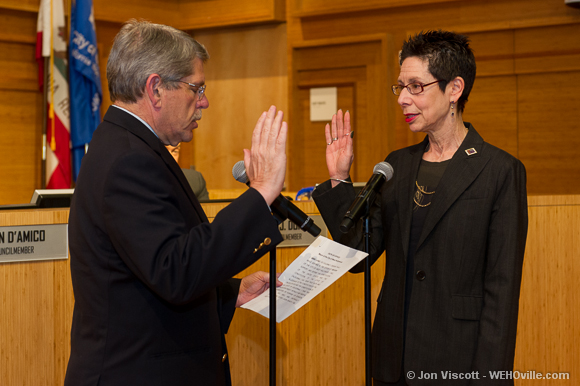 West Hollywood got a new mayor Monday night as Councilmember Abbe Land took the oath of office and Councilmember John D'Amico was sworn in as her mayor pro tem.
A crowd of about 150 people was on hand as Los Angeles County Supervisor Zev Yaroslavsky administered the oath to Land, telling the audience it was a privilege to swear in his "great friend, great personal friend." Land will serve a one-year term.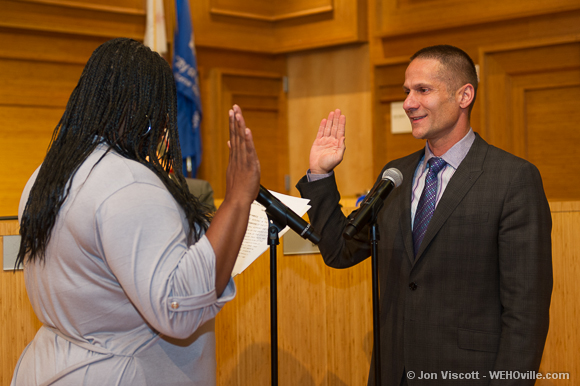 Assistant City Clerk Yvonne Quarker swore D'Amico in as mayor pro tem. He will also serve a one-year term before becoming mayor in April 2014.
In her speech, Land mentioned her mother's recent cancer diagnosis, noting how her mother was using a "one-day-at-a-time approach" to the situation. Land said she intends to adopt a similar philosophy as mayor.
Land also talked about her day job as executive director of the Trevor Project, a suicide counseling service for LGBT young people. Noting that young people need a safe place to grow, learn and speak their minds,  she called on the residents of West Hollywood to create a similar environment where residents can air their opinions, a reference to putting the bitterness of the March 2013 election in the past.
"I know we're going to disagree. I know all of us have a passionate vision of what West Hollywood should be," said Land, who has served as mayor five other times during her 22 years on the council. "We can disagree, but we don't have to be disagreeable or intimidating in the process."
Immediately after being sworn in, both Land and D'Amico rushed into the audience to hug their respective husbands, Martin Gantman and Keith Rand.
"If I'm any good at being a city council member, it's because of him," D'Amico said of his husband.
As D'Amico returned to the dais, he received hugs from each of his council colleagues, including Councilmember John Heilman. After two years of animosity, Heilman and D'Amico had tea together two weeks ago and apparently called a truce.
In his speech, D'Amico quoted from 19th century poet Walt Whitman's "Leaves of Grass." He said he believes if Whitman were alive today, he would live in West Hollywood. D'Amico also thanked outgoing mayor Jeffrey Prang for serving as a good role model.
"It's always my pleasure to watch you be the good government guy that you are," D'Amico said to Prang. "I hope that when I am mayor in a year that I am half as successful as you are."
Prang told the audience it was an "honor to preside" as mayor for the fourth time in his 16 years on the council. He also thanked his husband, Ray Vizcarra, for serving as the "first gentleman."
Prang joked that he was glad the responsibilities of mayor were behind him, noting that the job doesn't include additional authority but does include an "enormous amount of additional work."
"[Council members] always joke with one another. We say 'it's really great to be the mayor.' After 12 months, we say, 'it's really great to be the former mayor,'" Prang said.
Prang listed accomplishments of the past year, including breaking ground on two low-income housing complexes, investments in public safety, a community survey to gage public needs, the reopening West Hollywood Park and the council's decision to build an automated parking garage behind City Hall.
Once the meeting was over, the audience moved to the adjacent auto court for a party that included cakes made for the inauguration while jazz singer Catte Adams entertained.