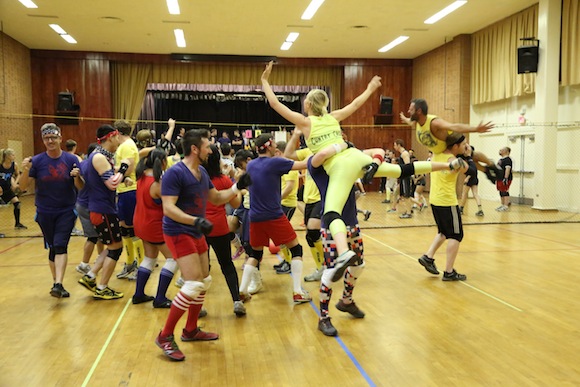 Dodgeball teams had one final chance to show their might before the finals Tuesday night at the West Hollywood Recreation Center. The playoffs included an upset, exploding ball and mid-court dance-off.
As expected, the top teams dominated early with No. 2 Heathers routing Not in My Face 9-0 and No. 1 D4D romping Power Bottoms 9-1.
What wasn't expected was a popped ball. Momentarily it caused confusion throughout the gym before leading to an impromptu dance-off between teams Amazeballs and It Gets Butter to the song "What a Feeling."
"We started off a few players short, but we we were able to really pull it together and play like Amazeballs does, like a veteran team that knows and cares about each other," said Amazeballer Francis Grabowski. "The Butters really pushed hard at the end, but we fortunately were able to maintain our lead. And what's a playoff game without a dance-off? The popped ball was a perfect opportunity to get down with our yummy, buttery friends."
The evening also saw a major upset as No. 10 Misfits defeated No. 3 Ballz Deep in overtime.
All playoff scores below:  
D4D 9, Power Bottoms 1
Heathers 9, Not In The Face 0
Misfits 4, Ballz Deep 3
Amazeballs 3, It Gets Butter 2
Tuesday Night Lights 9, Rise of the Unicorns 1
Boobie Warriors 8, Better Late Than Pregnant 1
Finals Schedule: 
Amazeballs vs. Tuesday Night Lights
Boobie Warriors vs. The Misfits
Heathers and D4D get a first-round bye. Winners of the 7 p.m. matches will play either D4D or Heathers at 8 p.m. The winners of those matches play in the final round at 9 p.m.