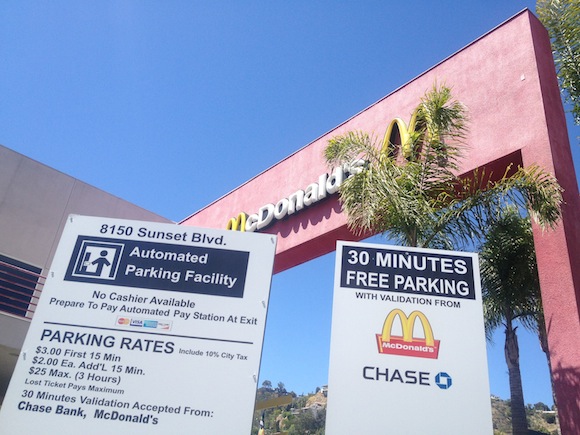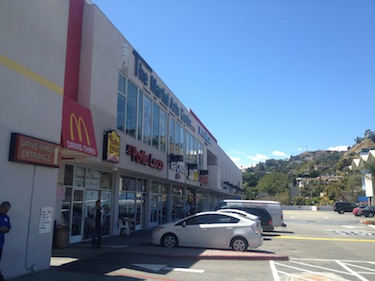 A group of tenants at Suncrest Plaza on the edge of West Hollywood are suing the owners of the 45,000-square-foot property claiming new parking fees established by the landlord are part of a plan to put them out of business and make room for a residential or mixed-use project.
Townscape Partners bought the strip mall, at 8128-8178 W. Sunset Blvd. just below Chateau Marmont, last year and, last month, started charging customers $3 per 15 minutes for parking.
The plaintiffs in the lawsuit (Subway, El Pollo Loco, a dry cleaners and spa) say they have not had the option of offering validation for parking, and have lost 50 percent of their business as a result of the fees. A McDonalds and Chase Bank are the only two businesses currently offering validation for 30 free minutes.
"The landlord, through general partner Townscape Partners, acquired Suncrest Plaza with the express intent of destroying Plaintiffs' businesses, driving them to financial ruin, and forcing them to surrender their leases early so Townscape Partners can 'reposition' the property by tearing it down, or otherwise substantially redeveloping it, into a residential or mixed use development with significantly higher profit potential," according to the lawsuit.
The plaintiffs operate small businesses with customers who spend relatively modest amounts of money each time they go to the stores (For example, an average guest spends $7 at Subway, according to the lawsuit).
The parking fees also exceed market rates at nearby commercial areas, according to the suit. At 8000 Sunset, the shopping complex across the street from Suncrest, the rate is $1.50 per 15 minutes, with a $24 daily maximum and validation is offered at most of the stores.
The lawsuit also alleges that Townscape Partners has instructed Quality Parking, the operator of the new parking system, to discourage customers from going to, among others, Subway and El Pollo Loco because they do not offer validation.
Rosa Pinuelas, the licensee of El Pollo Loco, is also seeking $1,100,000 claiming that her landlord refused to let her transfer her lease to a third party who offered to buy her fast food franchise.
Townscape Partners called the allegations "baseless and without merit" and said it has no contractual relationship with any of the four plaintiffs.
"Charging for parking is standard practice in Los Angeles, and most certainly in high demand areas like the Sunset Strip," said the landlord, referred to as "AG-SCH 8150 Sunset." "The plain language of each lease allows the landlord to charge for parking within the shopping center at rates that it determines are appropriate."
Townscape Partners has also run into trouble with its other West Hollywood property at 8899 Beverly Blvd., where it seeks to expand a commercial building and add townhomes and affordable-housing units nearby.
Principals of Suncrest landlord "AG-SCH 8150 Sunset" are Adam Schwartz and Michael Gordon, who are also principals in Angelo Gordon. Angelo Gordon is Townscape's partner in Beverly Boulevard Associates, the owner and developer of the 8899 Beverly Blvd. project.