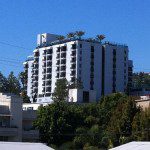 Blackstone Group has announced that it will sell the London West Hollywood, one of the city's most prestigious hotels.
Jonathan Gray, the private equity firm's global head of real estate, told Bloomberg News that the sale will enable Blackstone to take advantage of a recovery in the Los Angeles hotel market. The London, at 1020 N. San Vicente Blvd. south of Sunset, was formerly the Wyndham Bel Age. Blackstone acquired the hotel and closed it in 2007 for a year-long makeover, which Gray said cost $50 million.
The renovated hotel reopened as the London with a restaurant by Gordon Ramsey, the famed British chef. The renovation enabled Blackstone to increase room rates, which had been as low as $125 a night, to $449 and up.
The London is part of Blackstone's LXR Luxury Resorts & Hotels group, whose Golden Door Spa in Escondido Blackstone sold for $24.8 million in December. Other LXR hotels are the El Conquistador Resort in Puerto Rico and the Casa Marina resort in Key West, Florida, according to Bloomberg.
"We believed in the lodging recovery during the downturn and we continue to believe in the lodging recovery and always look for opportunities to invest," Gray said told Bloomberg. "Lodging went through a pretty sharp downturn and a number of assets got into financial trouble. That created opportunities to buy hotels."
Eastdil Secured, a brokerage, has been engaged by Blackstone to sell the hotel. Gray would not disclose the likely listing price.