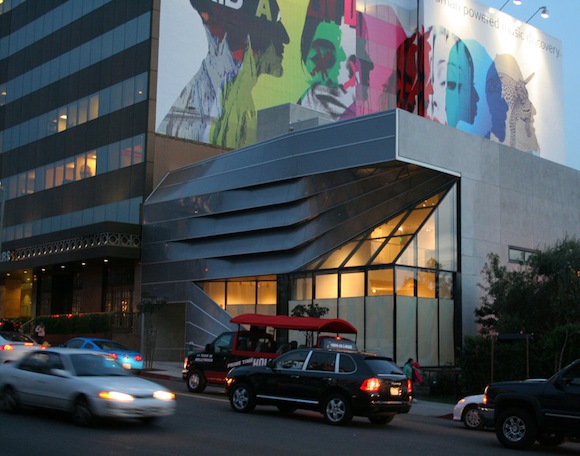 It is hard to miss the Prism gallery when driving or walking down Sunset Boulevard in West Hollywood. Ever wondered if you can go in and why it looks so unique?
Prism gallery, at 8746 Sunset Blvd. west of Sunset Plaza, was founded by PC Valmorbida (son in one of Australia's largest business families) and friend Jared Najjar. Their goal was to create a less stiff and stuffy kind of gallery, where the appreciation of art amongst a younger Los Angeles generation could be cultivated.
They purchased a boxy three-story stucco building and finished an extensive renovation in 2009, creating the Prism gallery we see today. The gallery first opened with some curated shows that mixed street and mainstream art. The openings were peppered with stars, but the gallery has settled down over the years.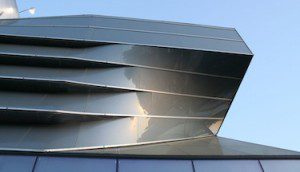 It may not be obvious, due to the reduced activity, but Prism shows are open to the public.
The redesign was by the Silver Lake firm P-A-T-T-E-R-N-S, headed by Georgina Huljich and Marcelo Spina, professors of architecture at UCLA and SCI-Arc, respectively.
They kept the gallery interior traditional, with open spaces and white walls. But to give a face to their client's concept the designers chose to create an innovative exterior with architectural bravado. They made the building itself, in a way, Prism gallery's first show, announcing its intentions before the doors opened.
Its materials are notable. It is one of the first buildings in the U.S. to go without glass and use a resin-based composite polycarbonate panel (aka plastic) facing system for the entirety of its twists.
Precisely creating these twists was a challenge for the architects. Describing their form will take you back to math class.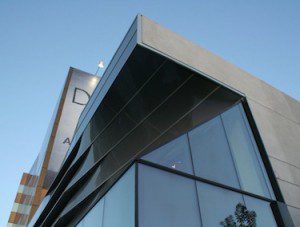 The upper ribbons rise to the west corner and the lower dive near the door, creating portions of what is called a hyperbolic paraboloid; a type of surface that curves in two directions at the same time. Think of a Pringles chip.
Functionally, the upward swerve helps project a larger scale and opens the building to people viewing from their cars, while the downturn reduces things for pedestrians at the front door.
Also, a hyperbolic paraboloid can be built with a series of straight lines and the help of a little calculus, meaning the new addition could line up with the perpendicular edges of the boxy building the designers renovated.
Prism gallery's architecture may be esoteric, but if we don't occasionally try something new we will be left with a city of basic stucco boxes, optimized by the developer dollar, like a worn-out, white-walled gallery showing last season's leftovers.