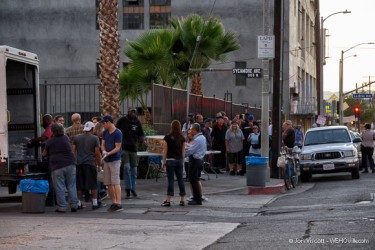 The West Hollywood Planning Commission unanimously approved a plan to allow homeless shelters to be built along much of Santa Monica Boulevard at its Thursday night meeting, but doesn't actually believe any shelters will ever be built.
"I couldn't emphasize enough how confident we are that this is not going to result in any changes on the ground," said Christi Hogin, a city attorney. "What matters on the ground is motivated by the market and this is not that."
The city says it doesn't have a choice, and that state law (SB2) requires it to pass an amendment to its zoning laws designating areas where "special needs housing," such as homeless shelters, emergency shelters, transitional housing and single-room occupancy (SRO) housing, can be located. Once the City Council approves the Planning Commission's plan, a special needs project could open along Santa Monica Boulevard without any city approval or notification to residents.
Currently, city law requires that each homeless shelter, etc. get a conditional use permit.
Santa Monica Boulevard was selected because it's a major transit corridor, but city staff members believe the high real estate prices will keep shelters away.
"So this is just an exercise on paper?" asked Commissioner Marc Yeber.
"Yes. You are right. That is what this is," said Hogin.
The city does, however, have a choice as to where it designates and how much, which was debated at Thursday's meeting.
A total of 64 acres (261 land parcels) on Santa Monica Boulevard were set aside for "special needs housing," which is about double what Beverly Hills and Culver City set aside. City staff said they were trying to spread out the possibility of special needs housing throughout the city and didn't want to place the burden on a few specific areas.
Commissioner John Altschul claimed that West Hollywood didn't do its homework, while Beverly Hills and Culver City, both about 5 square miles compared to West Hollywood's 1.9, spent time actually researching the matter.
Commissioner David Aghaei believes the acreage should be cut in at least half. In that case, the city would still be in compliance.
Since the City Council must vote on the zoning amendment before it becomes law, the commission opted to approve it with the recommendation the council reduce the amount of acreage and consider adding other locations, such as La Brea Avenue, which already has several organizations helping homeless and low-income people.
At the Planning Commission's Dec. 6, 2012 meeting, the special housing needs matter was met with severe criticism from both the public and the commission for failing, among other things, to give adequate notification to the residents. As a result, a citywide mailing was later sent out with information about where and why special needs housing had to be designated for a portion of West Hollywood.
That mailing calmed the public's outrage. At Thursday's meeting, only three people spoke on the item, and echoed the same concerns of the commission.