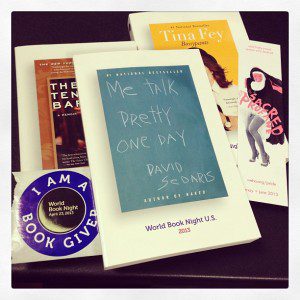 Stay on top of your Twitter feed Tuesday night (April 23) and you might end up with a free book.
West Hollywood will celebrate World Book Night with book giveaways at secret locations around the city from 6:30 p.m. to 8 p.m. The Twitter handle to follow is @artbeaweho for hints and clues, or get them on Facebook at www.facebook.com/artbeatwesthollywood.
In 2012, more than 80,000 volunteers gave away more than 2.5 million books worldwide. World Book Night is a non-profit whose goal is to motivate light and non-readers to pick up a few more books.
Some of the books that will be given away in West Hollywood include:
"The Handmaid's Tale" by Margaret Atwood
"City of Thieves" by David Benioff
"Bossypants" by Tina Fey
"Good Omens" by Neil Gaiman and Terry Pratchett
"Looking for Alaska" by John Green
"The Phantom Tollbooth" by Norton Juster and illustrated by Jules Feiffer
"Moneyball" by Michael Lewis
"Me Talk Pretty One Day" by David Sedaris
"A Connecticut Yankee in King Arthur's Court" by Mark Twain
"Favorite American Poems" by various authors
For more information about World Book Night, please go to www.WorldBookNight.org or call (323) 848-6377.