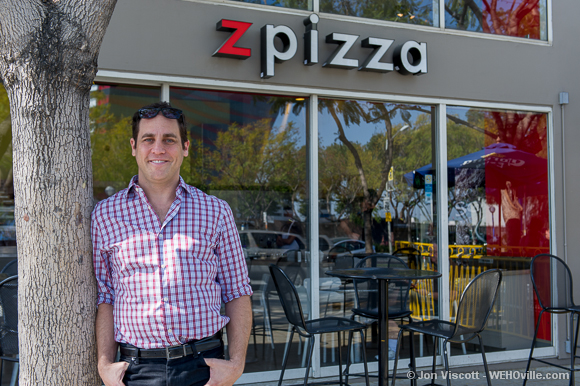 Nearly two years after initial meetings were held to form a Santa Monica Boulevard Business Improvement District (BID), a majority of business owners are still not convinced such an organization is needed.
So far, only 41 percent of the businesses on Santa Monica Boulevard between La Cienega Boulevard and Doheny Drive (and the adjacent side streets) have signed the petition to form the BID, which needs 51 percent to be approved. A BID is a defined area in which businesses pay additional fees (some say "taxes") to fund improvements.
BID backers are currently making a push for that last 10 percent, and long ago signed up places such as The Abbey, Micky's, Koontz Hardware, Capital Drugs, 24 Hour Fitness, the Ramada Plaza and Café D'Etoile.
However, they still are having trouble contacting a number of well-known westside establishments, including the Troubadour nightclub, Revolver video bar and Gym Bar sports bar. BID supporters say they have repeatedly reached out to those three businesses without a response. WEHOville also contacted Troubadour, Revolver and Gym Bar several times, both by phone and in person, with no response.
According to Genevieve Morrill, president of the West Hollywood Chamber of Commerce, some businesses owners are skeptical about the exact mission of the BID, fearing it is just another money-grab from the city. Businesses are especially concerned about how much they will be charged for the BID and how that money will be spent.
Another obstacle is simply finding the right person to sign the petition. A business owner, not business manager, must sign it. In the case of chain stores, often someone in the corporate headquarters must sign. Some of those chains also think the BID is a local issue, not one that concerns their overall business, advocates said.
Almost half of the businesses that agreed to form the BID were signed up by David Fanarof, owner of Z Pizza at 8869 Santa Monica Blvd. at San Vicente. He got involved because he wants the city to reduce the fees for use of sidewalk patio space and for late-night hours. Fanarof figures he stands little chance of accomplishing that as a small-business owner.
A BID might convince the city to make that change, he said.
"There's power in numbers," said Fanarof. "There are so many things we can do as a group that we can't get done as individual businesses."
Often BIDs are established to advocate an area, but there are other reasons. The Sunset Strip BID was formed in 2000 in response to safety issues. As a result, today security and maintenance are its primary concern. The Avenues design district BID (Melrose Avenue, Robertson and Beverly boulevards), which grew out of a coalition of art galleries, formed in the late 1990s to help market the area as a destination for fashion, art and design.
During initial meetings, businesses decided the Santa Monica Boulevard BID would focus on promotion and branding. With a proposed budget of $380,000 per year, almost 40 percent is committed for marketing and 30 percent for advocacy/administration.
"It's important that businesses work together in order to address issues of mutual concern," said West Hollywood City Councilmember Jeffrey Prang. "Santa Monica Boulevard has been the historic center of LGBT entertainment, but we're not the only game in town anymore. So, we need to promote it as an entertainment destination."
Some say Visit West Hollywood, the city's recently renamed marketing and visitor's bureau, is already tasked with promoting the city to LGBT tourists. They wonder why a BID is needed to duplicate that effort.
"Since when is more marketing a bad thing?" responded Fanarof, who notes that the BID will promote the area locally and nationally.
That LGBT marketing aspect is proving to be a sticking point for some businesses, especially those on the western end of Santa Monica Boulevard. BID supporter Larry Block, who owns the Block Party clothing store in Boystown, reports that businesses between Robertson Boulevard and Doheny Drive are reluctant to sign the petition because they consider themselves separate from the Boystown area, which is generally considered to run from La Cienega to Robertson.
However, Morrill believes the BID will help integrate those businesses into rest of the district. The BID proposes to have sidewalk sales, parties and events that involve the entire area.
"I've already met with sponsors who are interested in sponsoring events in this district," said Morrill, pointing out that Sunset Strip BID got liquor company Jack Daniels to sponsor the Sunset Strip Music Festival, which attracts an estimated 300,000 people each August.
Boystown is already known for the two largest events in the city – the Halloween Carnival, which attracts an estimated 1 million people each Oct. 31, and the gay pride festival, which draws approximately 400,000 people each June. The city of West Hollywood will continue to fund those well-established events, as well as Go-Go Dancer Appreciation Day, first held in 2011.
The BID will be responsible for creating other events to draw people to the area. Fanarof reported there's already talk of a Route 66 Classic Car Show.
"Santa Monica Boulevard is Route 66. It's a natural," said Fanarof. "Sure there are other classic car shows around, but we could do it in a way that only West Hollywood can do it."
The BID will be in charge of hiring security and clean-up crews at each of the special events it puts on, but it will not be responsible for having "security ambassadors" to patrol the area on a nightly basis, like the Sunset Strip BID does.
More security is coming to the entire city, however, funded by money from the extended parking meter hours that the City Council recently approved (half of the estimated $1 million in additional meter revenue is set aside for private security, the other half goes to the sheriff's department).
Those distinctions about security are causing confusion about the BID.
"The Sunset BID is associated with security. When we use that BID as an example of what a BID is, many people just make a leap that this BID will be doing the same thing," said former City Council candidate Sam Borelli, who recently joined the petition drive push. "So, we have to explain that this one is not about security."
To pay for the BID, businesses will be assessed an annual fee determined by the type of business, occupancy, square footage, gross receipts and alcohol sales. Fees on the high end will range from $12,000 per year for larger nightclubs (like the Abbey) to $7,000 for smaller clubs (like Micky's). On the low end, small restaurants (like Z Pizza) will pay $500 per year. A small office will pay $375.
Once the BID is approved by a majority, all businesses must pay the assessment fee regardless of whether they supported the BID or not. The city will invoice that fee along with the annual business license tax. To make the pocketbook pinch a little easier to bear, the city has agreed to collect the assessment fee in two payments each year, Morrill said.
All money collected by the city goes into the BID.
Some businesses are balking at paying what they consider an additional tax. However, Todd Steadman, president on the Sunset Strip Business Association (the official name for the Sunset Strip BID), believes that's the wrong way to view it.
"They should think of it as an investment in the community," said Steadman. "Their investment will compliment existing city services."
"Everyone's afraid of paying more money and being assessed," added Darren Gold, chairman of the Avenues: Art, Fashion & Design District (the official name of the Avenues BID). "But it's really a small fee in comparison to what you get back."
West Hollywood hired Civitas, a Sacramento-based consulting firm specializing in setting up business improvement districts, to create the annual budget and oversee the legal paperwork behind forming the BID. By state law, once the BID is approved, everything is legally locked in place for a five-year period and can't be adjusted until the BID comes up for renewal.
"The bottom line is, when the business owners sign the petition (to form the BID), they are saying, 'We support this budget, this breakdown of expenses,'" said Lorena Parker, a Civitas consultant who serves as the "project manager" of the Santa Monica Boulevard BID. "We've worked hard to get everything right because once it's approved, it can't be changed for five years."
Parker, who has worked with BIDs in the Los Angeles area for 10 years and served as chairperson of the LA Business Improvement District Consortium, believes things are on track. Meeting with individual businesses and explaining everything simply takes time, she said.
"These districts typically take about 18 months to form, so this one's just taking a little bit longer," Parker said. "My guess is we'll have enough businesses signed on in the next 30 to 60 days."