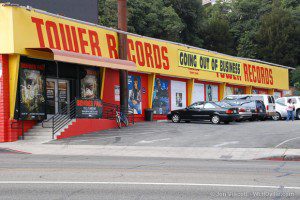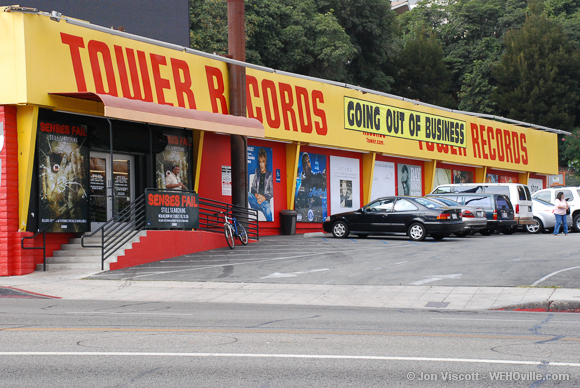 West Hollywood staff members have, yet again, recommended that the Tower Records site not be designated for historic preservation.
On Monday night, the Historic Preservation Commission will take that recommendation into consideration as it decides what to send along to the City Council, which will have final say.
The unassuming building, which served as the flagship store for the Tower Records chain for 36 years, and advocates say, was an integral part of music activity on the Sunset Strip, no longer shows the ever-changing signs advertising albums plus the red-and-yellow facade that made it so identifiable on the Strip. Currently, it is owned by Centrum Partners, which has urged the commission deny the application for preservation.
The city, which had already recommended denying designation before being asked to revisit the matter, said it recognizes that the building played a role in the cultural and social history of the Sunset Strip, but still believes it does not posses the "architectural integrity" needed for designation.
On March 26, the Historic Preservation Commission heard from locals and historic backers who hoped to save the building from potential demolishment or further development. Unsure of how to deal with how the color and signage on the building must factor into its decision, the commission called for city staff members to do further research.
"Although the subject building has undergone few material alterations since its construction in 1970, the removal of features that referenced Tower Records appears to have resulted in a cumulative loss of integrity, as these features played an integral role in connecting the vernacular commercial building with Tower Records' tenancy," said the staff report.
The report cites a number of WeHo and Los Angeles area buildings in making its case.
For example, in 1992 the city recommended that Tail o' the Pup, a WeHo hot dog stand, be nominated for preservation because it was "the last remaining example of programmatic architecture in the city."
In 2005, Irv's Burger, a popular lunch stand significant for its association with Route 66 and American car culture, was designated because it had "accompanying architectural significance." The building represented one of the last remaining automobile-oriented lunch stands in the city.
The report also cites the Black Cat, an LGBT bar in Silver Lake and site of the 1967 New Year's police raid on gay patrons that caused riots, and Chez Jay, a Santa Monica 1940s-era restaurant known for its celebrity clientele. The report says those venues are distinct from Tower Records because the Black Cat was still a bar at the time of its distinction and Chez Jay's tenancy hadn't change at the time of designation.
Venice West Cafe, a Los Angeles cafe noted for its Bohemian counter-culture, was the only example of a Los Angeles area building that was designated without architectural significance, according to the report.