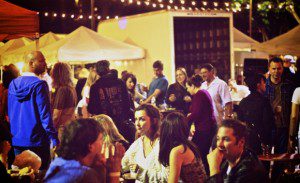 Tired of frozen peas and corn for dinner?
Better options are around the corner.
The Sunset Strip Market returns for a sophomore season Thursday, May 2, bringing back fresh fruit and vegetables and other local produce. It will be held every Thursday through October from 6 to 10 p.m. in the parking lot at 8755 Sunset Blvd. at Sherbourne.
In April, the City Council voted to grant the Sunset Strip Business Association, which operates the market, $50,000 for operation costs. The council also voted in favor of allowing the sale of alcoholic beverage sales. As a result, the market will now offer a craft beer and wine garden, which joins the regular options, including food, live music, entertainment and cooking demonstrations.
The market has expanded its $5 validated parking options with parking available in the former Tower Records parking lot at 8801 Sunset Blvd. at Holloway. For more parking information, click here.
A number of new vendors join the old lineup. For a full list of vendors, click here.