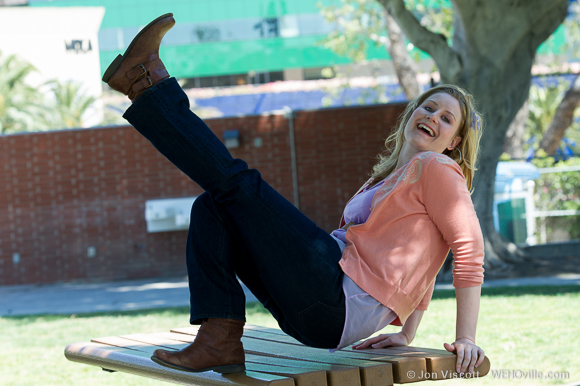 "West Hollywood—where the men love men, the women are Russian, and the lesbians are home with the cats." – Michelle March
[hr_dotted]
[dropcap]L[/dropcap]os Angeles is teeming with aspiring actors, screenwriters and other artistically inclined people gravitating toward Tinseltown. But all that glitters is not the silver screen.
On a cool evening in April, a shiny disco ball sparkles above the stage near the open front door of Hamburger Mary's in West Hollywood. The pink and purple décor and the drag queen posters on the walls leave no doubt that the venue is a favored haunt among the LGBT crowd.
Knowing the audience will understand LGBT cultural references, Pat Branch riffs on the acronym itself and the additional letters sometimes affixed to it, such as LGBTQIA.
"It sounds like the Old McDonald song? LGBT-e-i-e-i-o!" she says.
It's the first Tuesday in April, and Branch is warming up the crowd for the free monthly "I'm Just Sayin'" comedy show, which tonight features Brett Gilbert, Tracie Walker, Erik Escobar, Monique Reymond, Michelle March and Erik Charles Neilsen ("Community").
Comic and screenwriter Branch, a former WeHo resident (now living in Venice), has been hosting "I'm Just Sayin'" for seven years. Each month, she works to ensure that the lineup includes a mix of male and female, straight and LGBT comics.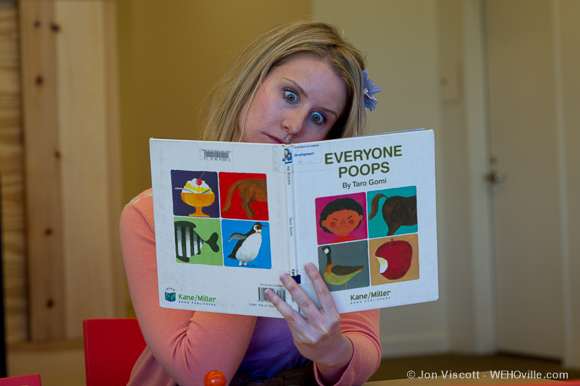 "I'm not trying to change any minds," says Branch, whose own jokes reflect her perspective as a black lesbian. "I'm just trying to make people laugh at themselves and at life."
"I'm Just Sayin' " is part of a thriving West Hollywood comedy scene that's bringing diverse voices to standup. With two comedy clubs on the nearby Sunset Strip, and standup classes available in the area, the Creative City is an incubator for comics who bring a wide range of experiences to an art form that isn't always inclusive and welcoming.
"I think West Hollywood creates a place for performers and audiences to enjoy standup that comes from a different perspective than the traditional straight male one," said award-winning comic and WeHo resident Heather Thomson, who performs at area venues such as the Hollywood Improv, The Palms and Hamburger Mary's.
"It creates a space for people who love the art of standup but may not fit into the mainstream to grow and thrive as artists."
Keeping It Real
When WeHo resident Jerome Cleary started out in standup about eight years ago, he had to make a decision. Would he invent a fictional girlfriend to crack jokes about, or would he be out as gay on stage? Cleary, who performs at many area venues and previously organized the award-winning Funny Fridays show at The Comedy Store, believes his decision to tell jokes culled from his life as a gay man has helped his comedy better resonate with audiences hungry for variety. A comedy show becomes redundant if it features a series of comics with similar backgrounds, he said.
Also, Cleary believes that the funniest material in standup is drawn from real-life funny stories.
I met a guy on a dating site, and his profile said he was divorced and bisexual. Then I found out he's married and bipolar. – Jerome Cleary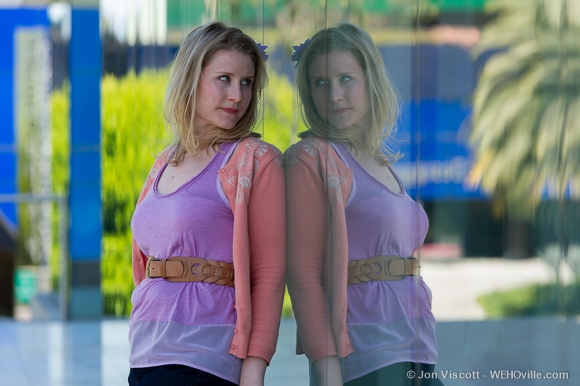 Thomson agrees that material a comic is "emotionally connected to" paints a funny picture for audiences. When she started out in standup, she noticed that revealing something personal tended to net her big laughs. She let that guide her as she moved forward.
For example, here's one of Thomson's jokes:
I came out of the closet, I told all my friends, all my family, which is a very hard thing to do. There's only one thing harder, and that's telling everyone you changed your mind.
The joke comes from a real-life experience: Thomson, who is primarily interested in men, once had a long-term relationship with a woman. Although it usually gets laughs from all audiences, the joke does especially well in WeHo, where many in the crowd can relate to the experience of coming out.
A Class Act – Studying the Art of Standup
Getting on stage and making people laugh is something a lot of people fantasize about but don't often do. Luckily for the aspiring comics of West Hollywood and Los Angeles, the area offers plenty of opportunities to hone standup skills through classes. Aspiring comics can also test their comedy chops at open mic nights.
Michael Sommers had done some acting when he decided to stare down his stage fright by enrolling in a standup comedy workshop taught by actor and comedian Adam Barnhardt at the L.A. Gay & Lesbian Center. In the multi-week class, Barnhardt — a regular at The Comedy Store, The Laugh Factory and other comedy clubs — covers topics such as writing jokes, creating a stage persona and connecting with the audience. The class culminates with a performance at the Comedy Store, located on the Sunset Strip just outside WeHo.
"It was terrifying for me — absolutely terrifying," Sommers said.
In the end, though, he loved the experience and triumphed over his stage fright. He took several classes from Barnhardt, who has been teaching comedy for more than 10 years. After taking the classes, Sommers continued doing standup regularly for four years. Like Cleary and Thomson, he found that telling true funny stories was what worked best for him.
"I'm not really a jokester," he said, "but I think life is very funny. The more authentic you are, the funnier you are."
And West Hollywood is giving diverse, authentic voices a place at the microphone.
[hr]
LOLWEHO – Laugh Out Locally 
[hr]
If you love to laugh, there are plenty of places to see great standup in and around West Hollywood. Ready to step up to the mic? There are open mic nights at several area venues.
The Comedy Store (21+)
8433 W. Sunset Blvd. near Kings
Open mic: Every Sunday and Monday at 7 p.m. Signups are at 6 p.m. on the patio, with 15 three-minute spots chosen by lottery.
Admission is free before 9 p.m. on Sundays and Mondays.


hollywood.thecomedystore.com

The Laugh Factory (18+)
8001 Sunset Blvd. at N. Laurel
Open mic: Every Tuesday at 6:30 p.m. on Tuesdays. Sign ups are at 5 p.m. for the following Tuesday night. Only the first 10 in line are accepted, and people usually line up hours in advance.
Admission to open mic is $17.
w

ww.laughfactory.com/
The free monthly "I'm Just Sayin'" comedy show is held on the first Tuesday of each month.
Hamburger Mary's
8288 Santa Monica Blvd. at Sweetzer


hamburgermarys.com/weho/

Although The Palms has announced that it will close its doors soon, its comedy events will continue throughout May.
Open mic: Every Tuesday and Thursday at 6:15 p.m. and 11 p.m.
Comedy shows at 8 p.m. and 9:30 p.m. on Tuesdays and Thursdays, at 6:30 p.m. on Sunday; and an LGBT show on Fridays at 8 p.m.
The Palms
8572 Santa Monica Blvd. at West Knoll


thepalmsbar.com

Gays R Us, which features LGBT and LGBT-friendly comics, is held at 8 p.m. on the first Wednesday of each month. It is presented by comic Erin Foley.
Hollywood Improv
8162 Melrose Ave. at N. Kilkea


hollywood.improv.com/show.cfm?id=139150



Get Schooled: WeHo Area Classes
Actor and comedian Adam Barnhardt teaches standup classes on a regular basis. For more information about Barhardt, visit

www.adamlylebarnhardt.com

.
The Comedy Store offers a seven-week course called Comedy U. A new session will begin on June 2. For more information, visit

hollywood.thecomedystore.com

and click on "Classes." Cost: $420.